Work Benches & Complete Work Stations: Great for Organization, Productivity & Your Aching Back!
by Rebekah Fuller, IQS editor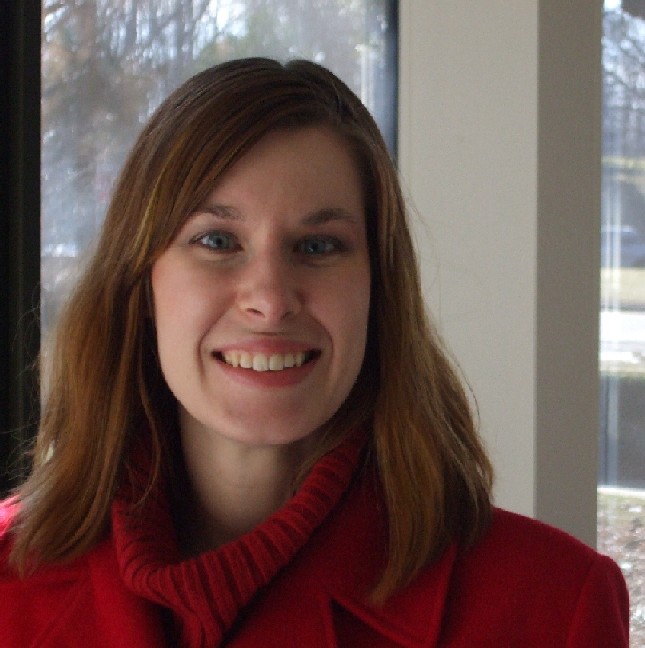 Aren't we all familiar with that achy pain after getting home from work some days? We feel it in our necks, backs, the soles of our feet or various joints. Whether in an office, commercial, or industrial environment, repetitive motion all day in a standing or sitting position has the tendency to do that. This is why ergonomics is so important in the workplace, and why OSHA has a four-pronged comprehensive approach to ergonomics. Since, in the broadest terms, workstations are used in office, IT, home, school, and manufacturing settings, OSHA has specific workstation guidelines, such as ones for computer workstations.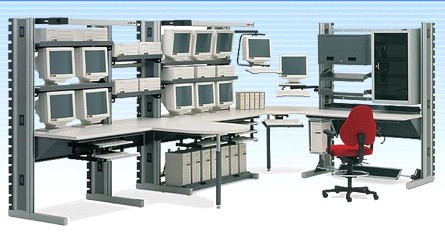 LAN stations by IAC Industries, Inc.
Computer-related tasks are so prevalent in today's work environment, and you can find all the computer-related features, accessories and ergonomic workstation options you might need from workstation manufacturers and suppliers. The keys to an organized, ergonomic workstation are adjustability, versatility and mobility. Most units are modular and/or portable, offering quick assembly and ease of relocation. With adjustable heights and convenient storage options, such as racks, bins, shelves, drawers, CPU holders, rolling carts and mobile cabinets, there is no excuse for your workstation to look like… well, mine at home. I've moved from the desk that now stores my papers and old laptops, and down to the coffee table in front of my TV, where I sit on the floor – back against the loveseat – and enjoy my new MacBook. It's actually kind of cozy, but my cat thinks the jumble of cords across the carpet are for him to play with, and I've stumbled then cursed them on more than one occasion. Work station design can include configurations for cable feeding and concealment to solve cable clutter.
Minus a supportive backrest and with poor posture, the setup in my studio apartment can become straining. Ergonomics relies on human posture and appendage placement, as well as conducive work station arrangement. Ergonomic workstations adapt the work environment to the worker, instead of forcing the worker to adapt to his or her work environment, though workers must remember to maintain a happy combination of relaxed muscles and proper posture. Ensuring that workers are comfortable, organized and unstrained while performing job duties leads to increased output of work and a decreased risk of work related injuries. The implementation of ergonomic principles is important for reducing stress and eliminating injuries in factories, manufacturing facilities and office settings. Injuries resulting from ergonomic issues consist of about a third of the 1.7 million work injuries per year.
Industrial workbenches are essential in assembly and production lines, and manufacturers offer some great features to fit these needs. Work bench tabletops can come with built-in manually operated (gravity feed) or power driven conveyor rollers or pop-up pneumatic ball transfers that add speed and efficiency to workbench and workstation production, packaging and shipping lines. Over-conveyor units exist as well.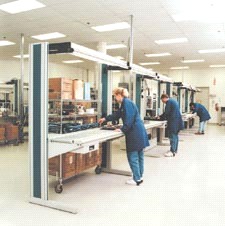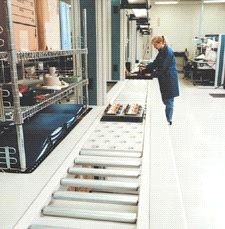 Conveyor Workbench System by IAC Industries, Inc.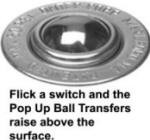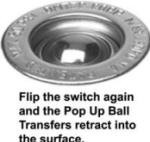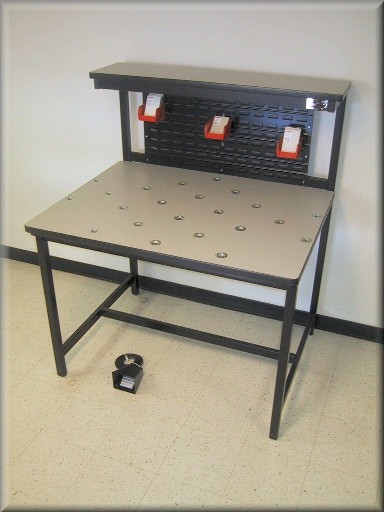 Ball Transfers and Rollers can be combined:


Pneumatic Pop-Up Ball Transfer System by RDM Industrial Products, Inc.
Industrial workstations can be configured for optimum shipping, receiving, packaging and mail sorting efficiency.
Lab furniture is a more specified type of work station that is used within cleanroom environments to prevent particle contamination. Features include a fully sealed worksurface utilizing solid core industrial grade particleboard with standard or ESD laminates, a non-dust collecting frame with sealed attachment points, and adjustable height leg extenders with tubing leg seals. Below is a basic cleanroom workbench design, with a tubular steel frame and maximum load capacity steel beams, for class 100 cleanrooms.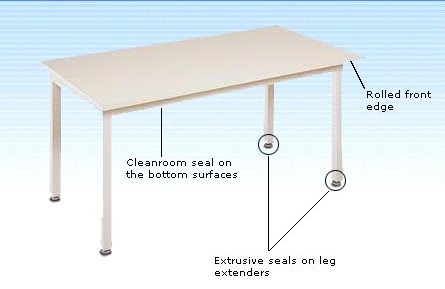 Basic Cleanroom Workbench by IAC Industries, Inc.
Cleanroom workstation units, like the one below constructed of powder coated cold rolled steel, can offer clean air through filtered laminar flow, utilizing built-in HEPA fan filter units.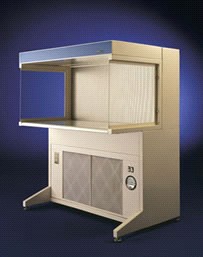 Laminar Flow Workbench by IAC Industries, Inc.
Whether you need a horizontally or vertically oriented unit, a single workbench, or rows of in-line or back-to-back workstations, you can find just what you need to work smart and efficiently, with great accessories that include ESD grounding components, freestanding footrests, tabletop slide rails, keyboard drawers, tabletop tiered bin racks and worksurface end stops and backsplash.