US Economy Shows Continued Signs of Improvement
by Marjorie Steele, Editor for IQS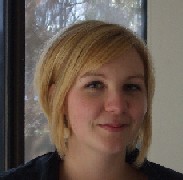 Two weeks ago, economists were far more optimistic about the state of the US economy than they had been in a year. An average of over 75% of economists who were polled in a number of surveys predicted the end of the recession to hit before 2010. Let's check back in and see if these positive trends were a fluke or if they're here to stay.
ChangeWave's second and third quarter Corporate Report reads "U.S. Economy Stabilizes – Longer Term Outlook Showing Dramatic Improvement." In essence, more companies are meeting their revenue plans, hiring new staff and predicting positive returns for the next quarter. As to exactly how many more, just take a look at the dramatic dip in the graphs below.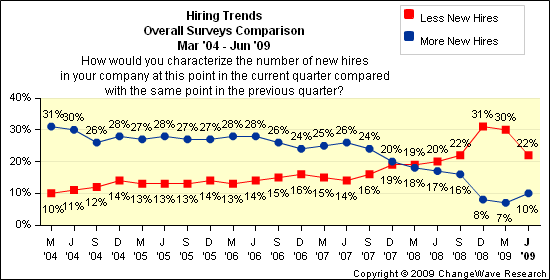 Consumer prices are beginning to rise as well, and the Bloomberg News echoes ChangeWave's positive interpretation of signs like these. "A 1% drop in industrial production last month," quotes an article from today, "mainly was due to auto-industry shutdowns that swamped gains elsewhere." In other words, GM's bankrupcy and Chrysler's closing are masking the progress that's being made in manufacturing and industry – but that progress is still there. The manufacturing index for the month of May is predicted to be another rise, the second monthly rise since October 2006. The malls are full – albeit full of 70% off sale shoppers – and President Obama and his economic adviser are whispering phrases like "modestly encouraging signs".
Knowing that interpreting indexes and surveys as a sign of an ending recession is hotly debated in online communities, I went to see what others were saying on this issue. While browsing I came across one post in particular that struck me as unnecessarily negative and flat out untrue. Here's what a blogger over at the Wall Street Pit has to say about May's indexes:
"Let's face it… we don't manufacture hardly anything in America of value and manufacturing is not going to spring back…you won't see any new auto manufacturers sprout up – any capital looking for a place to manufacture anything simply won't be looking to do it in America."
Unfortunately, this sentiment is echoed across many corners of the US – very likely the same corners that are reaching 15% unemployment due to failing production – like Michigan, IQS' home base. And it's a sentiment that is simply untrue. If America didn't manufacture anything of value, then why would failing US production reverberate throughout the world? Perhaps America's value as a manufacturing nation is just beginning to be realized, beginning with manufacturers from countries like Germany and China. Wind and solar energy manufacturing facilities both domestic and foreign are cropping up across the U.S.; foreign companies like Schott and Suntech are gearing up for large scale solar panel production, while companies like General Electric and Cisco are investing hundreds of millions in domestically manufactured technology. And despite GM and Chrysler's failures, Ford is retrofitting and building new facilities across the Midwest with plans to manufacture a new breed of electric cars.
There doesn't seem to be much of a question in the experts' minds as to whether or not US manufacturing will recover. When the recovery will happen is becoming more sure as well, with a healthy majority of economists, surveys and indexes pointing to an end of the recession before the end of 2009. The real question, it seems, is what will US manufacturing look like in the future of our global economy?