U.S Economy Continues to Improve
By Paul Carton and Jean Crumrine of ChangeWave Alliance
ChangeWave's latest corporate survey shows the U.S. economy continuing to recover, but compared to the major improvements seen last quarter the rate of recovery has slowed.
The August 24-September 2 survey of 3,006 corporate respondents shows a slight improvement in third quarter sales. Signs of progress have also occurred in sales pipeline projections and in capital spending going forward. Yet while the overall picture still points towards an end to the U.S. recession, the slowing rate of improvement is a key issue that needs to be watched closely.
Importantly, the current survey also shows no further easing of the U.S. credit crunch – even though we had picked up clear improvements in our previous survey. The best that can be said at present, is the credit crisis does not appear to be getting any worse.
U.S. Economic Growth
Two-in-five respondents (41%) now say that their company sales will come in Below Plan for third quarter 2009 – although that's three points better than the previous survey. Another 15% say their company sales will come in Above Plan – which represents a two point uptick.

Looking forward, sales pipeline projections have also improved for the fourth quarter – albeit at a slower rate than we picked up last quarter.
Better than one-in-five (21%) now say their company sales will come in Above Plan – which is a three point improvement over the previous survey. At the same time, only 26% report they'll come in Below Plan – two points better than the previous survey.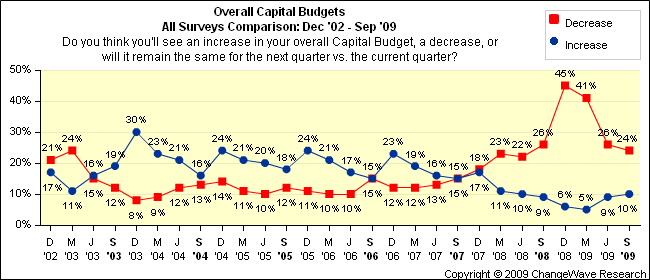 Thus, fourth quarter sales projections represent a net five point positive change from the previous quarter.
Going forward we continue to track a deceleration in the rate of capital spending decline, with 10% projecting an increase in their fourth quarter capital budgets – a one point improvement over our previous survey.
While 24% of respondents still project a decrease in their company's fourth quarter capital budget, that's two points better than our previous survey and a considerable improvement over the freefall in capital spending we were reporting nine months ago (December 2008).
So although the rate of improvement in capital spending is nowhere near as dramatic as we picked up last quarter, the recovery continues to inch ahead.
Job Market
For the second consecutive survey, the U.S. labor market shows signs of stabilizing. A total of 11% report there are more new hires in their company at this point in the third quarter vs. last quarter – up one point since the previous survey. A total of 21% say there are less new hires – down one point from previously.
Similar to the patterns unearthed throughout this survey, the rate of improvement this quarter is not as great as last quarter.
Impact of the Credit Crunch
For the last two years we've been measuring the impact of the credit crisis on U.S. businesses – generally considered to be a key cause of the recession.
Last quarter we picked up the first measurable signs of improvement in the credit crisis. However, a key finding of the current survey is there has been no further easing of the credit crunch.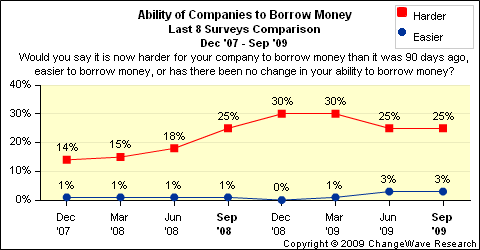 One-in-four (25%) respondents still say that it is harder for their company to borrow money than it was 90 days ago – unchanged from the previous survey. Another 3% say it is easier to borrow money, also unchanged from previously. Thus on this all-important issue, it remains just as hard for companies to borrow money this quarter as it was last quarter.
In terms of individual sectors, the Semiconductor sector is showing signs of strength for the third consecutive survey. Other sectors showing momentum include Transportation, Manufacturing Equipment & Services, and Natural Gas & Oil. On the downside, we're picking up weakness in Defense, Construction and Energy Utilities. (See next article below for full 3Q/4Q Sector Report).
Bottom Line
The signs of a stabilizing economy that we saw last quarter across a range of key indicators have extended into the current quarter – although the pace of recovery has slowed.
One potential Achilles' heel to a continuing recovery is the ongoing credit crunch. The current survey shows no further easing on this all-important issue – it remains exactly as hard for companies to borrow money this quarter as it was last quarter.
Importantly, we'll continue tracking these issues in upcoming ChangeWave surveys – including whether the Holiday shopping season will help improve consumer spending this fall and whether the credit crunch will ease further for businesses.