Stainless Steel Plate's Helpful Properties
Stainless steel is a universal product that is commonly used in most aspects of industry. It has an abundance of high quality properties and offers longevity with little maintenance. Stainless steel has been frequently used since the early to mid-20th century. In the last 100 years, stainless steel has become a widely used commodity around the world. One of the many uses of this alloy is stainless steel plate which is thicker than sheets. A plate is considered thicker than 6mm or 0.25in. Plate can come in a number of textures and thicknesses for different applications. Three frequently used categories are 304, 316 and 410 stainless plates. This product is used because of its superior properties in a number of industrial applications.
Stainless steel plates are used in a number of industries. To start, here are some specific examples of how certain alloys are used. 304, 304L and 304H are used in the food and beverage industry. They are common for kitchens, brewing and food processing where cleanliness is imperative. Second, 316 and 316L are used in marine and cryogenic applications. In this instance, the salt from the sea and low temperatures are not as destructive as they would be to other forms of steel. Lastly, 410 stainless are utilized in many industries including oil refining because of its hard and rigid properties. In addition to these specific examples other alloys of stainless steel plates are used in construction, electronics, aerospace, automotive and chemical among other industries. The plates can also come in a variety of textures and finishes consisting of smooth, diamond or dimpled with polished, dull or colored exterior.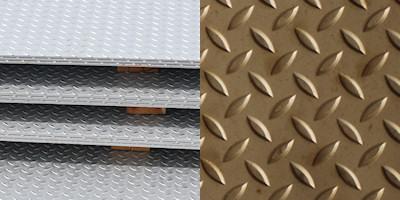 Photos Courtesy of Penn Stainless Products
To explain what makes stainless steel, this alloy must have at least 10% chromium to be considered as such. Having this characteristic is merely the beginning of a long list of desirable qualities. Stainless steel plate is used in all of the industries above because of its resistance to corrosion, especially oxidation and sulfidation. Furthermore, the metal is desired in food and beverage because avoidance of product contamination. The surface of the plate is easy to clean and sterilize. When the alloy is permanently outside, such as a building or an oil rig the resistance to erosion and abrasion along with retention of strength and ductility at extreme temperatures is extremely important. Impressively in addition to all of these qualities stainless steel plate is still low weight yet high strength and the luster of the surface makes for a clean and aesthetic appearance. These are the properties that make stainless plates ideal for industrial parts
If these properties are suitable for your industry you may consider using more stainless steel plate. There are many reasons why stainless plates are used across nearly every industrial industry. If there are other alloys your business finds useful, please share below. Furthermore, tell us any stories you have where stainless steel plate was the best option and why.