Rubber Extrusions – Worth Your Attention
In 1999, the United States International Trade Commission undertook an investigation into whether or not extruded rubber thread (ERT) imports from Indonesia were causing material injury to an American industry. The Department of Commerce had determined that the threads were being sold in the U.S. at "less than fair value," which, the committee determined, made it too difficult for American manufacturers of rubber extrusions to compete. The Commission decided that Indonesia was indeed "dumping" its extruded rubber thread on the American market. In response, the ITC instructed the DOC to instruct the Customs Service to impose duties on extruded rubber thread imported from Indonesia, effectively raising the price of the product for American buyers and making American-made products less unattractive in the process.
Extruded rubber image courtesy of Fairchild Industries.
Why all this fuss about a little rubber thread? Was this a triumph of bureaucracy or a waste of time and money? Americans sometimes take for granted the fact that they have regular access to the best manufacturing infrastructure in the world and the highest-quality consumer products, and they also take for granted the fact that these products are available to them in many venues and at low prices. What would have happened if Indonesia had been allowed to dump its product and American manufacturers of ERT folded? The theory goes that the Indonesian suppliers would have eliminated their American competition and could set prices as high as they wanted after that fact. The ITC's report suggested that this would cause "underwear waistbands, sock tops, parts of jogging suits" as well as "diapers, furniture webbing and rubber toy "Koosh" balls" to become more expensive.
When put in context, the subject of affordable ERT access doesn't seem like more boring boardroom fodder. Rubber products like ERT are important to us. ERT represents just a small fraction of the extruded rubber products produced and consumed within the American economy. Rubber extrusions of all shapes, sizes and materials pervade every economic context. In industry, extruded rubber bumpers are affixed to machines to prevent them from being damaged by impact or to absorb vibration. In offices, retail spaces and in other commercial settings, rubber trim can be found lining walls and the edges of cubicles; I've got strips of extruded rubber lining the edges of the desk where I'm sitting right now. Chances are that at a given point in time, if you live in a city, you're never more than a few feet away from some kind of extruded rubber product (and if you're wearing underwear, you're even closer). The sealing strips in your refrigerator door are probably made of extruded rubber, and so is the weatherstripping in your windows. The reality in America's economy is that we've got a broad, intense need for products like extruded rubber tubes, extruded rubber trim, connectors, grommets and even thread. This means that the products and their sale within and across our borders are worthy of our regulatory institutions' attention.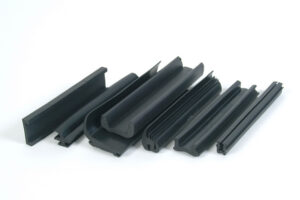 Extruded trim image courtesy of GSH Industries.
Rubber extruders, the companies that produce the extruded rubber products that we use, make obviously important contributions to our economy. Understanding that contribution is simultaneously a lesson in how the rubber industry works and in the complexity and interconnectedness of industry, trade and regulatory structures. It's amazing that something as simple as a little extruded rubber could merit the attention of the federal government's international trade regulators, but that's the reality of our economy today. Businesspeople, pundits and academics will disagree about whether the government should play a role in regulating trade and how it should go about it. But no one disagrees that extruded rubber is a vitally important product in our economy.