Rotron® 'EN' Regenerative Blowers by AMETEK, Inc.
Press Release – December 9, 2008 by AMETEK Technical & Industrial Products
"Equipped for environmental remediation applications"
Rotron® "EN" regenerative blowers provide ideal solutions for a wide range of environmental remediation applications. Their explosion-proof motors are UL and CSA approved for Class 1, Group D and F&G atmospheres to promote optimized and safe operation in the most challenging and harshest environments.
Typical applications include soil vapor extraction, vent header off-gassing, and landfill gas recovery, among others.
These clean, oil-free, and low-noise blowers incorporate compact, rugged construction engineered for reliable and long service life at point-of-operation. They employ regenerative air technology to develop proper air pressures and vacuums without the higher energy and maintenance costs associated with larger multi-stage or positive air-displacement blowers and compressors.
Features include heavy-duty cast aluminum manifold; spark-resistant and vacuum-impregnated housing, cover, impeller, muffler tower, and manifold; PTFE lip seal in a stainless steel case for leakage containment to 25cc/min or less; sealed blower assembly for minimum leakage; and sealed motor bearings contributing up to 25,000 hours of service life.
Rotron "EN" blowers can achieve maximum flows up to 920 SCFM; pressures up to 114 IWG; and vacuums up to 168 IWG, depending on blower style. Voltages range from 115 VAC. All models can be customized with a wide range of options and accessories to satisfy particular application requirements.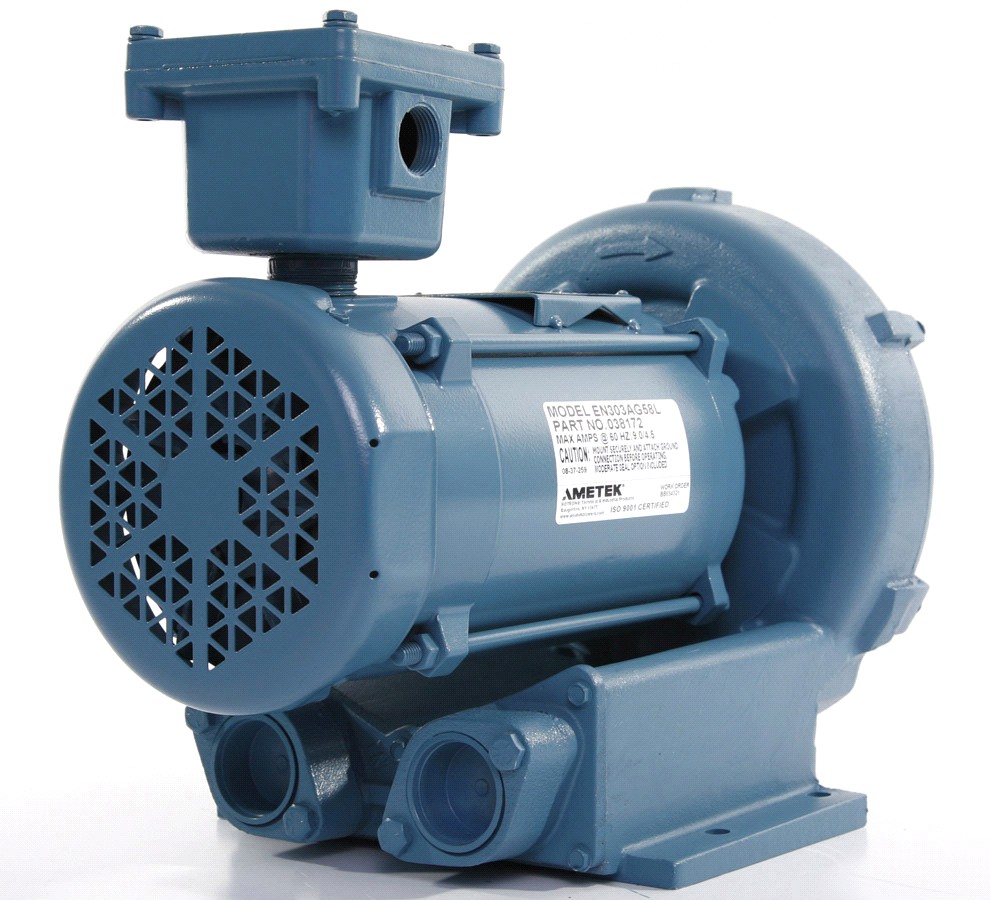 AMETEK Technical & Industrial Products is a unit of AMETEK, Inc., a leading global manufacturer of electronic instruments and electromechanical devices with annual sales of more than $2.5 billion.
Contact Shannon Booth, AMETEK Technical & Industrial Products, 627 Lake Street, Kent, OH 44240 USA. Phone: 330-673-3452. Fax: 330-677-3306. Web site: http://www.ametektechnicalproducts.com/" rel="nofollow"