Premier Temperature Chambers from RapidTherm
Temperature Chambers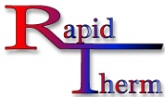 RapidTherm, Inc. is a manufacturer of environmental test chambers. We are located in Chandler, Arizona and our products are made in the USA. We manufacture energy efficient, single zone chambers. They can perform thermal shock testing without moving the device under test. Our chambers are also suitable for environmental stress screening (ESS) applications.
Our test chambers are available in three sizes: 2, 4, and 12 cubic feet. Their compact design only takes up 16-18 square feet of floor space. All three models include steel casters, two adjustable stainless steel wire rod shelves, and an Independent high-low temperature limit controller as standard features. Furthermore, they can handle temperatures from – 75ºC to +200ºC. Optional features include a remote air-cooled refrigeration condenser, larger conditioning equipment for larger loads, a purge system, and more.
Thanks to the patented thermal storage system, our chambers can achieve fast air temperature change rates of more than 60°C per minute depending on the temperatures, without the use of liquid nitrogen or CO2. Our chambers have advantage of no basket transfer system and no liquid nitrogen requirement. By using the part temperature control combined with high airflow and quick air temperature change rates the test specimen can achieve the desired temperature at much faster rates. This can reduce total test time. Contact us for more information.