Rotron® brand regenerative blowers designed for commercial spa agitation have been engineered to develop ideal air flows and pressures for optimized aeration in spas and hot tubs. This specialty family of blowers includes five standard models available with a wide range of options and accessories to meet the most demanding application requirements.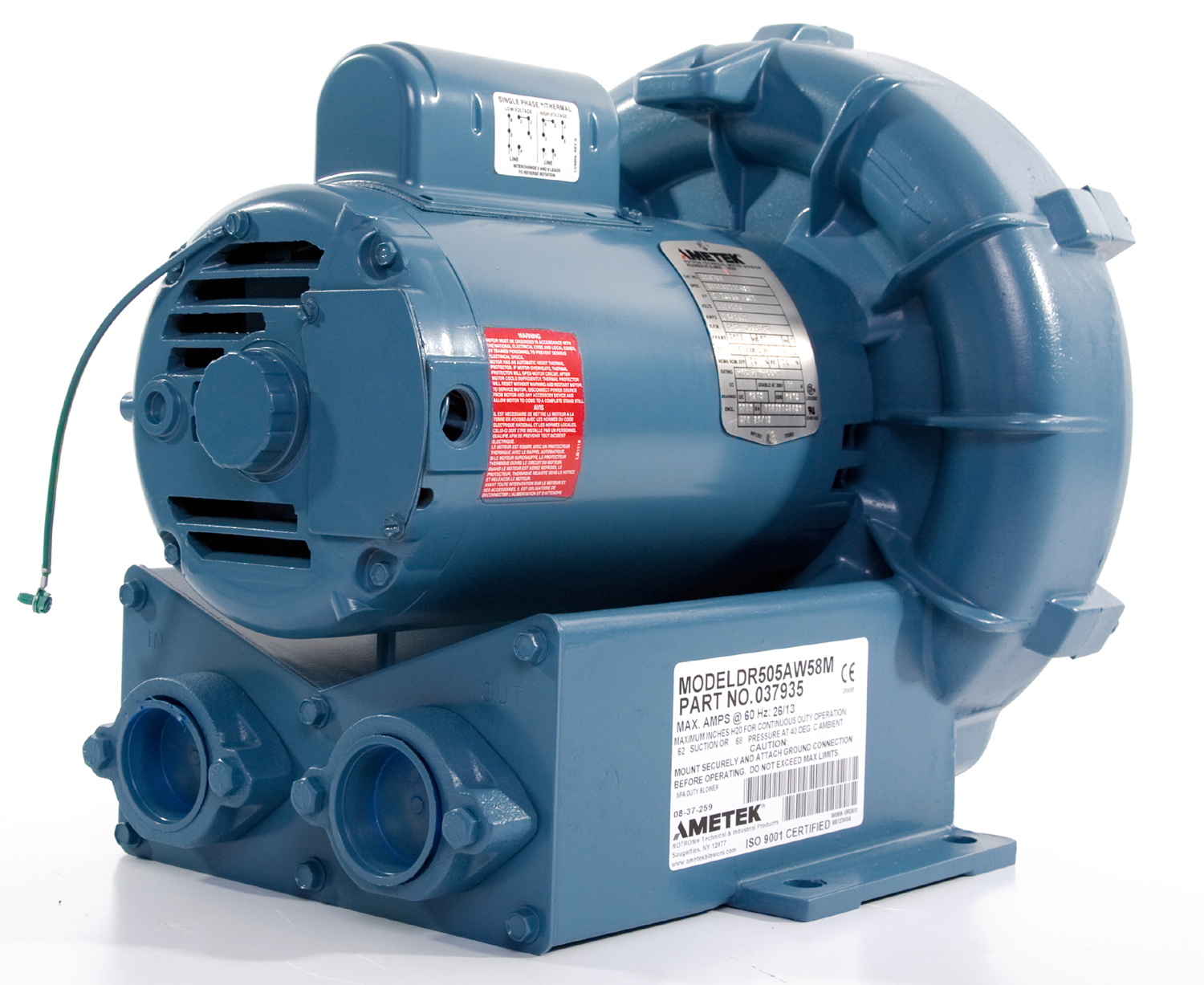 The oil-free and low-noise blowers employ regenerative air technology to deliver reliable performance without the higher energy and maintenance costs typically associated with larger multi-stage or positive air-displacement blowers and compressors. Depending on model, these blowers can achieve maximum air flows ranging from 78 SCFM to 200 SCFM and maximum pressures from 56 IWG to 88 IWG. They are equipped with standard spa-duty motors from 1.0 HP to 3.0 HP.
Among their features, the blowers benefit from cast aluminum blower housing, impeller, and cover; incorporate UL and CSA approved motors with permanently sealed ball bearings (for up to 25,000 hours of service life) and Class B rated thermal protection; and integrate inlet and outlet internal muffling to provide quiet operation within OSHA standards.
Blowers can additionally be specified with corrosion-resistant surface treatments and sealing options and slip-on or face flanges. Motors can be supplied with international voltage and frequency; chemical duty, high efficiency, inverter duty, or industry-specific designs; and various horsepower ratings as needed.
Available accessories include flowmeters reading in SCFM; filters and moisture separators; switches for air flow, pressure, vacuum, or temperature; external mufflers for additional silencing; and variable frequency drive packages, among others. Custom blowers can also be developed to satisfy the most demanding applications.
AMETEK Technical & Industrial Products, Inc. is a unit of AMETEK, Inc., a leading global manufacturer of electronic instruments and electromechanical devices with annual sales of more than $2.1 billion.
Contact
Jay Jarboe,
AMETEK Technical & Industrial Products, Inc.
627 Lake Street, Kent, OH, 44240
Phone: 815-877-5404
Fax: 815-877-5644
www.ametektechnicalproducts.com
Rotron® Regenerative Blowers for Commercial Spa Agitation Develop Ideal Air Flows and Pressures for Optimized Aeration

,