Haydon Kerk Motion Solutions Introduces the RGS04 Dual Carriage Linear Rail and Programmable Actuator Assembly

Waterbury, CT – Haydon Kerk Motion Solutions, a premier manufacturer of engineered linear motion products, offers the dual carriage RGS04 motorized linear rail assembly. This system combines many of Haydon Kerk's patented motion technologies into a single integrated system. The RGS® brand linear rail will come preassembled with the IDEA™ programmable actuator, greatly simplifying product integration for the OEM.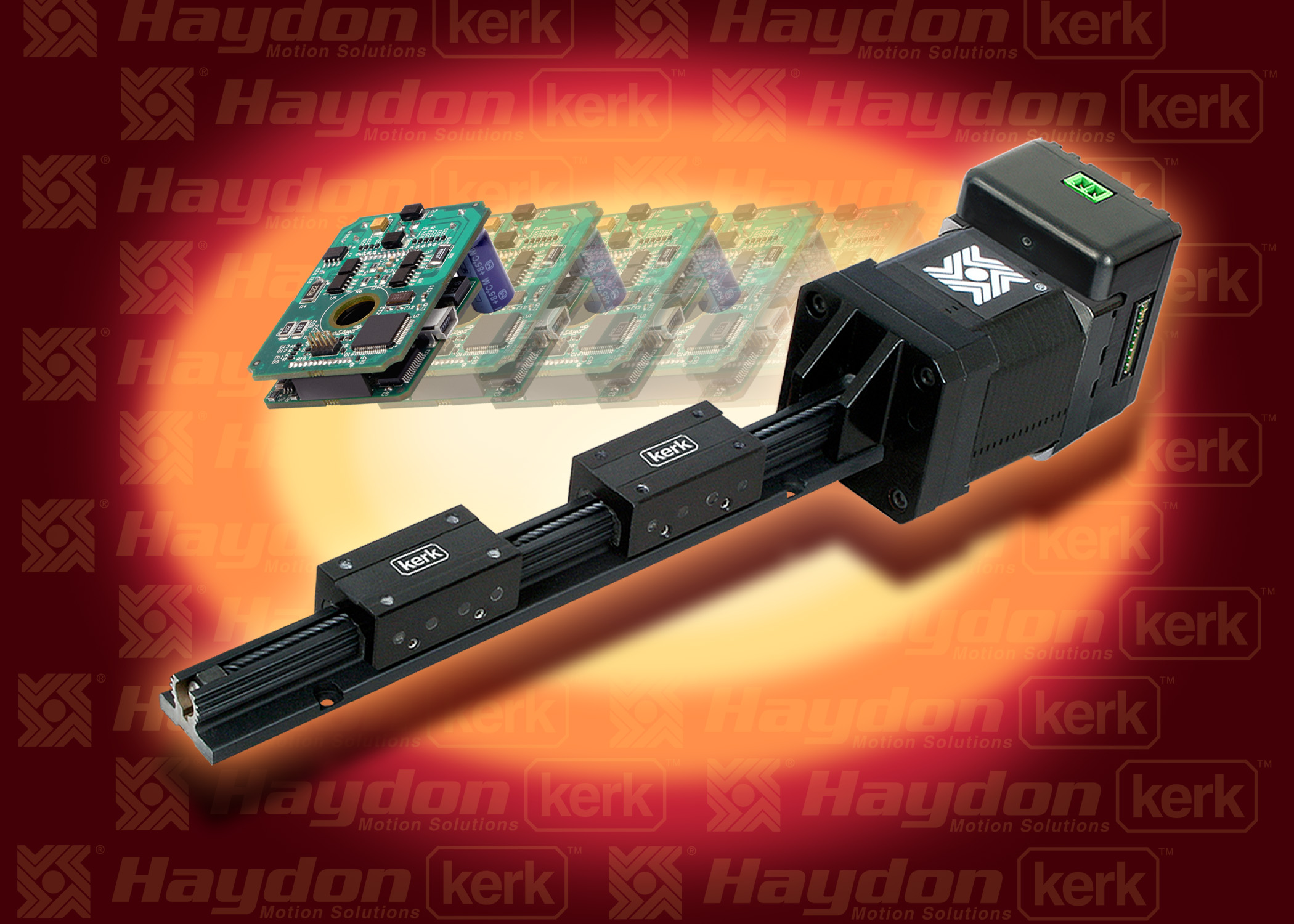 The Kerk® RGS04 linear rails feature standard wear-compensating, anti-backlash driven carriages to insure repeatable and accurate positioning. All moving surfaces include Kerkite® engineered polymers running on Kerkote® TFE coating, providing a strong, stable platform for a variety of linear motion applications.
The IDEA programmable system combines Haydon™ hybrid linear actuator technology with a fully programmable, integrated stepper motor drive. The programmable drive comes with an easy-to-use patent pending graphic user interface to program motion profiles directly into the system and also contains a "debug" utility allowing line-by-line execution of a motion program for easy troubleshooting.
By combining technologies into a single preassembled unit, Haydon Kerk is able to improve system integration for the equipment OEM or end user. The overall cost for the customer is also lowered by offering a complete solution as it eliminates the need for rotary-to-linear conversion, as well as simplifies product development with fewer components required.
Applications for the programmable motorized RGS04 include life science equipment, laboratory instrumentation, semiconductor processing equipment, and various other applications requiring precision linear motion.
For more product information or to speak with an engineer to discuss a specific application, contact Haydon Kerk at info@HaydonKerk.com or 800-243-2715.
About Haydon Kerk Motion Solutions, Inc.
Haydon Kerk Motion Solutions, Inc. is the joining of two world class brands in the field of linear motion; Haydon Switch and Instrument, Inc. and Kerk Motion Products, Inc. Together, the company now offers a broad range of linear motion products. Recognized as a leading manufacturer of stepper motor based linear actuators, rotary motors, lead screw assemblies, and linear rail and guide systems used in niche market applications, Haydon Kerk Motion Solutions offers a wide range of high performance and precision products. Haydon Kerk Motion Solutions has developed industry-renowned brands built upon its technical innovation, versatility, customization, product durability, and dedicated customer service. For more information, please visit our website at http://www.HaydonKerk.com.
Haydon Kerk Motion Solutions Introduces the RGS04 Dual Carriage Linear Rail and Programmable Actuator Assembly

,