by Rebekah Fuller, IQS Editor
As someone who has had part of a finger chopped off by a leg-lift machine, let me echo the importance of safety guarding. Whether you are in the workplace or working out and playing sports, you should be able to rely on the equipment, any training you should have had, and the general environment. When I really needed my weight training spotter, she was off talking to someone else. It was my first and last time in the high school weight room; I was a freshman and very unprepared. The weights were coming up away from my ankles and dangerously closing in on my chest. Like with certain industrial machinery, shouldn't there have been a locking mechanism to halt motion after a particular point? All I know is I panicked, pushed the weights down and without thinking braced myself underneath, right in the their path. The descending force dealt a crushing blow to my left hand's ring finger. Thankfully, after a great surgeon's work and months of physical therapy, I still have use of that appendage with limited range of motion. Unlike a person being right there with you, machine guards act as "spotters" in industrial settings.
Image courtesy of Flexbar Machine Corporation.
I wonder what the U.S. Consumer Product Safety Commission would have said about that leg-lift machine, or if it would have met ASTM International standards for fitness equipment. Many federal and private organizations exist to make sure hazards are properly prevented. If a gym equipment manufacturer or a machine guard manufacturer wants to succeed, it will adhere not only to government regulations but the best industry standards as well. The Industrial Organization for Standardization, known internationally as ISO, is a high authority when it comes to safety, reliability and quality. Many of the manufacturers listed in this IQS Directory proudly hold an ISO certification.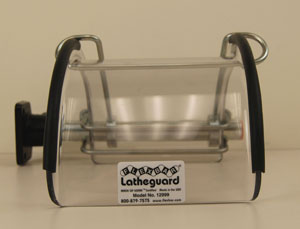 Image courtesy of Flexbar Machine Corporation.
If the equipment comes from an ISO certified manufacturer, it should live up to the best standards for design and manufacture. Anything can go wrong in this imperfect world, but there will always be that push for protection, especially after painful and even fatal accidents. Thousands of workplace fatalities happen each year—www.osha.gov reports that 4,340 workers died on the job in 2009. Some are freak accidents; many involve the worker being struck by out-of-control objects or falling from an unstable structure, being pulled into, say, a wood chipper or poisoned due to carbon monoxide or some other lethal substance.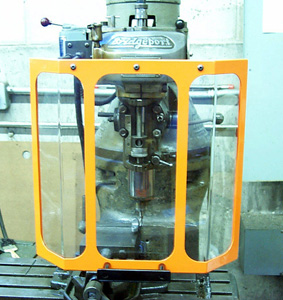 Image courtesy of Flexbar Machine Corporation.
No wonder why the U.S. Department of Labor's Occupational Safety and Health Administration (OSHA) offers quite a thorough compilation of regulations—from ergonomic workstations to safety guards—with many specifications for different kinds of workplaces, such as general industry, construction, oil & gas and maritime. You should see all the guidelines for OSHA machine guarding. I never knew how many different types of saws there are to be protected from, plus shears, gears, rotating parts, reciprocating arms, cutting teeth, moving belts, presses, milling machines, automated assembly line machinery, robotics, feeders, etc.—all of which should have the appropriate safety barriers.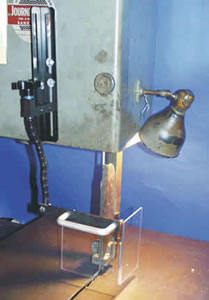 Image courtesy of Flexbar Machine Corporation.
Like the wire guard that protects you from the blades of a fan, devices such as chuck guards, drill press guards, lathe guards and milling machine guards offer a buffer—a physical protective barrier, visor, shield, or enclosure—so workers don't get too close to moving parts and aren't hit by flying debris or hot/harmful splatter. Machine guard fencing offers a physical partition around equipment, robotic cells and work areas, while safety light curtains are invisible barriers that signal shut-off when breached. Along with automatic shut-offs, manual cut-offs are in place at the point-of-operation.
With OSHA, it's a combination of machine guarding, wearing proper protective gear—which is outlined from head to feet—proper operator training, hazard communication and preventative maintenance; this organization has something to say about workers being safeguarded against falls, fires, chip and liquid burns, blindness, electrical shock, noise exposure, all kinds of hazardous and toxic materials and waste, chemicals, gases, radiation, dust, bloodborne pathogens, etc. Whatever one's work area, whether it is the manufacturing plant's floor, a roof, a powered platform, an industrial truck, a drill rig, a mine, etc.—there should be the most up-to-date prevention measures in place to protect as many lives as possible.
Safe Guarding Life and Limb in the Workplace with Machine Guards

,