For Outstanding Powder Metal Parts, Look No Further Than Perry Tool & Research
Powder Metal Parts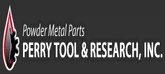 Perry Tool & Research has manufactured superior Powder Metal Parts for OEM companies since 1962. We use a Powder Metallurgy (P/M) process to produce complex, precision metal parts. We have over 50 years of excellent service and this has often made us the only resource for a part when competitors are unable to produce quality parts in sufficient numbers. All of our parts are inspected to a minimum Cpk of 1.33 which allows us to deliver directly to many stock or assembly operations without an incoming inspection.
We specialize in manufacturing gears up to 12 AGMA, self-lubricating bearings, soft magnetic components, pulleys, and custom mechanical parts. We ensure high quality parts with our statistically based pre-control system that detects any process deterioration before out of tolerance parts are produced. Our parts are used in printers, plotters, fractional hp gear motors and reduction gear boxes, timing devices, medical equipment, gaming equipment, solenoids, rotary & linear, magnetic latches, sensors, electromagnetic equipment, locks, automotive parts, and many other applications that require complex, multilevel, close tolerance parts.
We understand the importance of safe manufacturing processes and Perry Tool & Research is committed to compliance with all laws and regulations, including the European Union (Directive 2002/95/EC) Restriction of Hazardous Substance (RoHS) Directive and with the Environmentally Conscious Green Requirements. Call us today to learn what we can do for you!