IQS Newsroom Featured Profile: Superbolt, Inc.
by Amy Harris, IQS Editor

In 1974, Rolf Steinbock, then President of Steinbock Machinery Corporation, noticed a problem with the bolts of scrap choppers he was working with. He had an idea for a simple solution which, when implemented, saved valuable time and material by reducing the wear and tear on the machinery. Steinbock continued to use this new bolting device, and years later when he further improved the design, the multi-jackbolt tensioner was created. The success of this product, later patented by Steinbock, led to the start of a company based on manufacturing quality bolts. Starting business in a small rented space with just three employees, Superbolt, Inc. was born. Built upon Steinbock's simple premise of problem solving and continuous improvement, Superbolt has continued to advance from its humble beginnings. Today, it is one of the fastest growing providers of bolting solutions in the world, with the US-based plant shipping approximately 100,000 individual tensioners a year.
Superbolt is a family-owned and managed company; Steinbock recruited his sons into the business to maintain a focused company purpose and consistent manufacturing standard. Decades later, the principle goal of Superbolt remains: to produce the highest quality, simple solutions for customers' bolting needs. The implementation of this focus can be seen in the main plant located in Pennsylvania, with state-of-the-art equipment and a dedicated, well-qualified team ensuring the high standard of work. It doesn't stop there however; Superbolt has expanded its reach beyond US borders, and now distributes quality products to a diverse and growing customer base all over the world.
Not content with simply finding a solution, the team at Superbolt looks to find the best solution, and works to improve and develop safe, fast and simple bolting options for customers. A new development, the Split-Nut Thrust Collar, and a further improvement on the basic multi-jackbolt design are products to look forward to in the upcoming months. It is this dedication to innovative manufacturing by Steinbock and his team that has seen Superbolt not only survive the recent economical downturn, but instead continue to grow and gain market share in the bolting industry. The simple principle of solving problems, and the capacity to fulfill a market need with high-quality progressive products will surely tighten this company's hold on a successful future.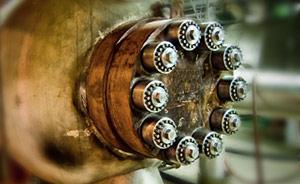 Photo courtesy of Superbolt, Inc.