by Joanna Dykhuis, IQS Editor
One of my favorite fall activities is apple picking with friends. I enjoy picking the fruit off the trees and placing it in my basket while trying hard not to sink my teeth into it right then and there. The end of summer harvest includes much more than apples, though; corn, squash, peppers, potatoes, asparagus, blueberries, pumpkins, tomatoes and many other fruits and vegetables are ripe and ready to be enjoyed whether they were grown in hundred-acre fields or in your own backyard. Next time you are enjoying fresh produce, pause a moment and be thankful for the sunshine, the rain, the fruitful soil and latches. Yes, without the simple arrangement of fences, a gate and a gate latch the fruits and vegetables that we love would be readily available to intruders such as deer, rabbits and woodchucks, not to mention a sneaky neighbor.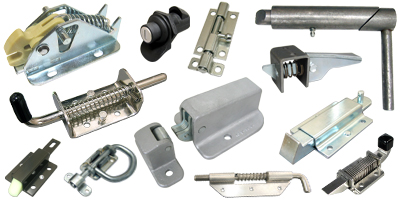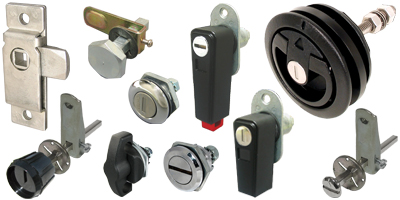 Photos courtesy of Sierra Pacific Engineering & Products.
Latches are used to fasten items that can be open or closed such as doors, windows, cabinets and gates and may also have a locking function. Without a latch on a garden gate, greenhouse door or other similar item, animals or people are able to enter the enclosure. Latches are useful in practically every industry and are used most notably for security, transportation and storage. Industrial latches are large and durable, making them well suited for the aerospace and automobile industries. Latches vary in design and shape from one application to another though the general operation is simple: one part of the latch is physically trapped or held in place by another part of the latch which can be removed to allow the latch to open. These mechanical devices give the user control over release and operation. Latches are manufactured in a variety of materials. Stainless steel latches and plastic latches are the most common; metal latches are widely used for outdoor environments or in high use applications because of their strength and durability. Plastic latches are frequently used as safety latches on cupboards and cabinets to prevent children from accessing poisonous chemicals or dangerous objects.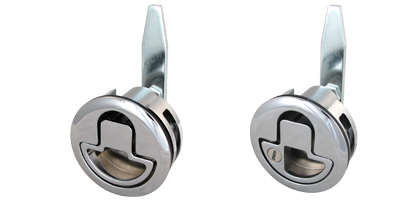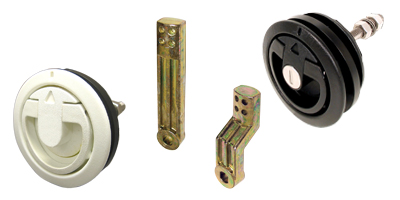 Photos courtesy of Sierra Pacific Engineering & Products.
Many pool areas, gardens and hotel rooms have bolt latches where a bolt must be pulled back and turned slightly to allow the two sides of the latch to separate. They may be similar to paddle latches that use a latch handle mechanism that must be turned or flipped. Compression latches have a dual purpose. They fasten two sides together and also seal a gasket between them. They are frequently used as environmental controls and in applications where a tight boundary is critical. Spring latches are one of the most common door latches and are found in almost every household, office, commercial and industrial building with latching doors. A spring applies pressure to a pin that rests in a notch on the opposite panel. When enough force is applied —usually through the turning of a knob or the depression of a latch—the spring compresses and the pin is retracted. Slam latches are similar in that they also use a spring to hold the pin; the fastening and locking assembly is automatically activated when the door or window is shut with force. It is hard to overestimate how prevalent latches are in our everyday lives. When you leave the pool area, close your front door, open a window, run the dishwasher, get out of your car or shut the garden gate, latches are all around you, protecting you and the things you love.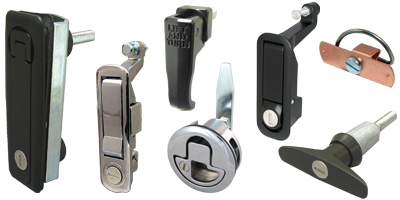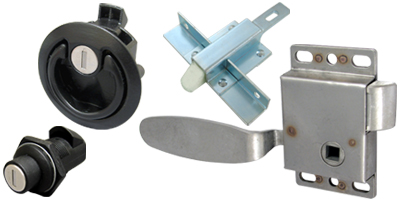 Photos courtesy of Sierra Pacific Engineering & Products.
Latches and Garden Patches

,