Type 6P Enclosures
Press Release – May 2014 – Provided by ATTABOX LLC

Temple, Texas, May, 2014 – Attabox, a Texas manufacturer of non-metallic industrial enclosures, achieved UL Type 6P certification on May 10, 2014.  This will add to the current UL/cUL 508A and UL/cUL 50e certifications and IP68 ratings.
A UL Type 6P rating means the enclosures are constructed for either indoor or outdoor use – to provide a degree of protection against incidental contact with the enclosed equipment; to provide a degree of protection against falling dirt, rain, sleet, snow, hose-directed water, corrosion, and the entry of water during prolonged submersion at a limited depth; and that will be undamaged by the external formation of ice on the enclosure.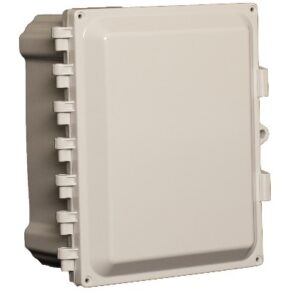 Image Courtesy of ATTABOX LLC
UL is a global independent safety science company with more than a century of expertise innovating safety solutions from the public adoption of electricity to new breakthroughs in sustainability, renewable energy and nanotechnology. Dedicated to promoting safe living and working environments, UL helps safeguard people, products and places in important ways, facilitating trade and providing peace of mind.
Bill Evatt, president, commented "This advanced rating provides evidence that Attabox is designed, produced, and assembled for the most extreme industrial environments.   Our customers in the waste water, marine, and oil/gas markets will be pleased to add this to the list of Attabox capabilities."
Attabox enclosures are available in the following sizes: 6x6x4, 8x6x4, 10x8x4, 12x10x6, 14x12x6, 16x14x8, 18x16x10, and 24x24x10.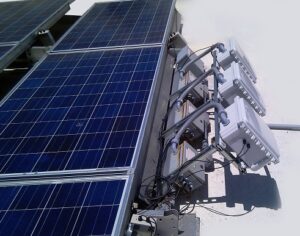 Image Courtesy of ATTABOX LLC
The key features of Attabox Enclosures include:  robust polycarbonate construction, flat panel hinged lid, external latches, high performance inserts, integrated lock hasp, flush-fit swing panel, and DIN rail mounting system.  To find out more about Attabox products call 800-686-0986 or visit the web site, www.attabox.com.
About Attabox LLC:
Attabox is a leading manufacturer in the Engineered Enclosure market.  Attabox was formed in 2007 and is based in Temple, Texas, with production in east Texas.  Attabox is considered an innovative leader in the engineering, manufacturing, and marketing of thermoplastic enclosures by providing extremely high quality Engineered Enclosures for the industrial, WIFI, electrical, solar, telecommunications, HVAC, Instrumentation/Control, government, Oil/Gas, and construction markets.