BRAWNY REEL UPGRADE Adding Structural Strength to Get the Job Done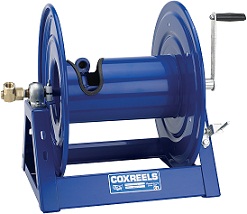 Coxreels® introduces the brawny upgrade available for any hand crank and motorized 1125 Series hose reel. This new feature is an added option that strengthens the discs and the drum, preventing potential damage under increased pressure usage.
The Brawny option includes all the distinctive features and benefits found on the standard 1125 series with the addition of structural reinforcement. The Brawny reels are designed with 10-gauge steel plates welded into each disc to keep them from bowing. The center drum is thickened and upgraded from standard 16-gauge to 14-gauge steel to prevent deformation and eventual crushing of the drum that can be caused by hose pressure.
To order the brawny upgrade, simply add prefix "BX" on standard 3,000 PSI 1125 models or "BH" on high pressure 5,000 PSI 1125 models. This brawny option is ideal for high pressure spraying operations found in the fire and rescue fields, pressure washing markets, and anywhere high pressure hose is used. By adding the needed strength to the drum and discs, these professional grade reels are better prepared to tackle the toughest jobs in the industry.
Coxreels® has been manufacturing high quality professional grade hose, cord, and cable reels since 1923. Offering a full product line serving the industry in every channel and application, Coxreels® takes great pride in designing, building, and supporting the world's finest reels made right here in the U.S.A.
For further information on the Coxreels® product line, contact Customer Service at (800) 269-7335 or visit www.coxreels.com.