Anywhere You Need Us: Himes Service Company, Inc.
Industrial Balers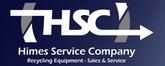 At Himes Service Company, Inc., your success is our success. Founded in Waco, Texas, by Buddy Himes, Himes Service Company has been providing expertise for our customers since 1997. Your one-stop shop, Himes Service Company has all of your recycling equipment needs. We are the only stop you need to make for all new and used equipment, parts and service. Himes Service Company provides sales and service on most major brands of scrap processing and recycling equipment including balers, conveyors, shredders, sort systems, chip processors, densifiers, and shears.
Install-Move-Relocate, Himes Service Company can remove, relocate and install most major brands of recycling equipment. From full turnkey installations on new and used equipment to simply relocating an existing piece of equipment. We are willing to work with you to ensure your satisfaction. With our years of experience in the field, Himes Service Company's consulting services are provided for companies and municipalities at all stages of equipment purchasing and installation. Equipment evaluation and appraisal services are available.
Himes Service Company is quality driven, service oriented, from specializing in industrial maintenance, custom fabrication shop and portable welding and general contracting. We are proud to service our local community as well as onsite jobs throughout the nation. We offer a preventative maintenance program, the PM's are usually scheduled to be monthly or quarterly, depending on your processing rates. We can provide training on equipment, wire tier replacements, welding, computer changeouts and upgrades, and much more. Just give us a call! No matter where you are, remember, Himes Service Company is anywhere you need us.