Plastic Bags and Polyethylene Bags
With all of the applications we find for plastic bags today, it is hard to imagine what the world would be like without them. Sure, in the past people somehow managed to make it through there daily lives without plastic, but they could also survive without a cell phone and people definitely could not do that today… Plastic bags are how we bag all of our produce and then groceries, store our leftovers, transport our entire shopping spree home, keep all of the goodies for goodie bags together and countless other activities and uses. The possibilities for plastic bags are endless. They can come in all sorts of shapes, materials, sizes, colors and designs, making the perfect bag option available for nearly every situation. They are a convenient and affordable way to get through each and every day.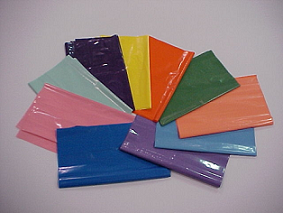 Image Courtesy of Custom Poly Packaging
Depending on what exactly the bag will be used for, determining the ideal material can be crucial. Plastic bags can be used for storing goods, transportation, shipping, packaging and other applications in a wide variety of industries from industrial to commercial to residential. Having the right material will help determine how it will hold up in the various applications. For example, medical plastic bags will require a much more durable bag that is able to withstand chemicals, air pollutants and liquids. These qualifications might not be needed in the average shopping bag. Some common plastic bag materials include polyethylene, polypropylene, vinyl, polyvinyl chloride and other polymer options.
Polyethylene is one of the more common choices for plastic bag materials. These bags are found in many commercial, industrial and domestic settings. They can be used or industries such as food, chemical, retail, medical, construction, defense, waste management and much more. Polyethylene bags are desired for a number of benefits including being waterproof, flexible, tear resistant and translucent. Further, they are moisture resistant, anti-static and able to prevent large amounts of lights from passing into it. The latter example is one reason they are often used for artifacts and prints. They can be developed to be plain, sealable, tamper evident and with other customizations in various shapes and sizes. There are various types of polyethylene that include HDPE (high density polyethylene), LDPE (low density polyethylene), LLDPE (linear low density polyethylene), UHMWPE (ultrahigh molecular weight polyethylene), MDPE (medium density polyethylene) and VLDPE (very low density polyethylene). Each is able to offer further advantages and disadvantages, making it essential to evaluate each closely before making a decision.

Images Courtesy of Multi-Pak USA, Inc.
As you can see, finding the right bag can be a complicated process. There are so many options available, and each one will be able to fit certain unique applications in different ways. They can also be customized to make sure that each unique application has the perfect solution. In the future, other options will continue to be developed, not simply new colors and designs, but material types as well. For example, biodegradable bags will become increasingly popular. While they can already be found in some instances, such as certain garbage bags, as they become more popular we can hope to see them available at lower prices and for even more applications. When it comes to plastic bags, there seem to be no limits to what they can do.