Glue Rubber to Metal: Water Based vs. Solvent Based Adhesives
There are various types of gluing agents available on the market each with their own distinct attributes which are ideal for different applications. Water based adhesives have become very popular due to a number of their benefits. Traditionally solvent based adhesives have a greater shear and peel strength compared to water based adhesives, however there have been some recent breakthroughs in the water based field. These innovations have not only improved the strength of water based adhesives but they also enhanced the speed in which the glue will adhere to materials. These water based adhesives allow the rubber to have a greater bonding strength to the metal's porous surface resulting in deeper penetration. This stronger bond is ideal for applications where strong bonds are needed but also this advantage allows for greater resistance and flexibility to cold and heat.
These versatile water based solutions can usually be extruded, rolled or sprayed allowing for uniformity and consistent strength throughout the structure. Water based adhesives are also considered environmentally friendly because they contain any volatile organic compounds. Water based adhesives are generally used for layflat laminating, labeling, woodworking, and more. This type of adhesive is also recognized as a very economical solution. Although there are clear benefits to water based adhesives there are a range of qualities associated with solvent based adhesives. These solutions are known for their tried and true performance in applications that involve extensive weathering as well as higher temperatures. Solvent based adhesives have a higher resistance to moisture compared to water based adhesives. The key to determining which adhesive is most beneficial for an application is based in the requirements of the project but also in the surrounding environment.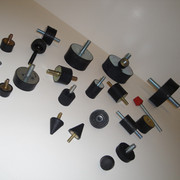 Photo Courtesy of Accurate Products
When attempting to glue rubber to metal there are a number of factors to consider when selecting the right adhesive. The best bonding processes will utilize rubbers and metals that are compatible for long term adhesion and rubber bonded to metal is ideal to increase the longevity of the product. These types of products are typically used in industries such as automotive, storage, electronics, construction, plumbing and much more. Aluminum has been a metal of choice for rubber bonding in certain applications due to the light weight and low cost of this metal. Steel is also a recommended choice because of the high resistant to corrosion and overall durability. When selecting between solvent based or water base adhesives take the time to thoroughly research the best possible solution for your application. These steps will save you time and money in the long run.