Advantages of Fiber Drums
Fiber drums are a perfect solution for shipping bulk materials such as liquids, powders, or chemicals. Their flexible design allows them to be adjusted and shaped to fit any purpose or need depending on the product to be shipped. Regardless of being made of inexpensive fiberboard, they endure years of use and can be repurposed multiple times to fit changing circumstances and conditions. The lightweight material is safe, secure, and solid ensuring perfect preservation of whatever is stored in them.
Though steel and plastic drums are very popular for shipping a variety of materials, they lack some of the outstanding qualities of fiber. Shipments of condiments for food production has to be done in completely sanitary conditions free of contaminates. Plastic and steel cannot be sterilized sufficiently to remove all harmful substances. Fiber is a biodegradable material made from paper that can be customized for any kind of shipping offering a clean sanitized container free of harmful bacteria.
The first fiber drums were produced as a substitute for wooden casks. Drums made from wood contaminated a portion of every shipment causing producers to lose money due to spoiled product. Steel drums were not a viable substitute since they were not clean enough. What was needed was a container that did not rust or flake, was durable but not heavy, and sturdy enough to last for several shipments. The result was the invention of the fiber drum.
Fiber or fiber board begins with huge rolls of paper that come from recycled paper or paper producers. At the production factory, the paper is unrolled and glued to form a very heavy board like material that is reshaped into cylinders that are cut to the desired size. The lids and bottoms that are added are made of a variety of materials such as plastic, various metals or paper, depending on how the drum will be used.
Fiber drums can be adapted for several uses by changing the size, lid and lining. The lining of a fiber drum is one of its most attractive features since it can be changed to fit the different uses. When storing semi-liquids, seamless and sealed polyethylene is used while a silicone lining with high release properties is used for adhesives. A drum lined with poly foil has moisture protection when storing oil or water based products removing the need for a separate lining. The ability to be adapted and changed to fit any condition is a characteristic of fiber drums that makes them perfect for every industry.
Fiberboard used in the manufacturing process of fiber drums comes in three densities – low-density fiberboard (LDF), medium-density fiberboard (MDF), or hardboard (high-density fiberboard, HDF). The varying densities allows customers to choose the shape, size, and durability of a drum that can be designed to fit any type of specialized need. If extra strength is needed, the fiberboard can be placed over other materials such as thin steel or aluminum without increasing the final cost of the drum.
In the hundred years since its invention, fiber drums have become more and more popular. The economical cost is the first thing that catches the attention of managers. Steel and plastic drums start at over $100 and steadily increase as they are customized or adjusted to meet specific requirements. The most expensive and specially designed fiber drum is a little over a $100 with most drums costing much less.
There are several features of fiber drums that warehouse managers enjoy. Since the drums can easily be moved and are lightweight, they are safer, more efficient, and very ergonomic. Unlike metal drums, they can be lifted by hand or transported by a forklift without any danger of falling and injuring an employee. An added feature of fiber drums is their repairability. By simply applying heavy tape, any holes or abrasions can be covered and repaired lengthening the usefulness of the drum.
When a fiber drum is no longer useful, all of the material in its construction can be broken down and recycled. Since fiber drums are made of rolled paper, it is very easy to dispose of them by throwing them into a cardboard bailer after removing the lining and metal parts. As with all cardboard and paper products, fiberboard can be repurposed for dozens of uses such as the construction of boxes, writing paper for school children, or grocery bags. Fiber drums will never end up in a landfill or dump.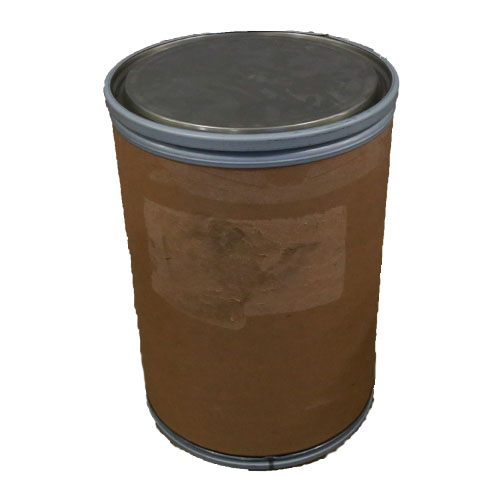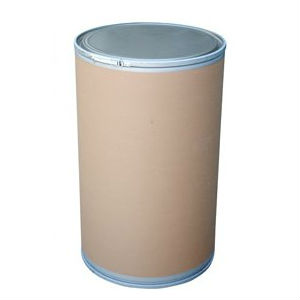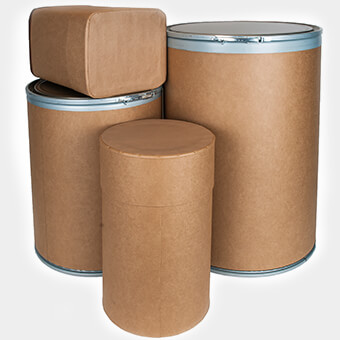 Fiber Drums- Rahway Steel Drum Company, Inc. Fiber Drums- Container Distributors, Inc. Fiber Drums- BASCO, Inc.