Years of Experience in Custom Carrying Cases
Carrying Cases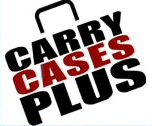 With over 25 years of experience in the carrying case industry, Carry Case Plus is proud to provide our customers with high-quality products and superior customer service that they can depend on. Our reputation as a family owned business is built on providing both custom and stock case solutions for a variety of industries and for a number of different applications. We distribute a number of different styles of cases such as blow molded plastic cases, injection molded carry cases, shipping cases and all-weather cases. Depending on your application we offer a few different options for the interior of the cases from empty cases to custom foam inserts and everything in between such as diced foam or convoluted foam filling similar to that of an egg crate.
We work with our customers in order to deliver a custom solution that meets their every need, our specialty happens to be custom foam cases and we are proud to say that we do not outsource our custom foam needs as we are a custom foam fabricator. We do all of our fabricating in-house in our 39,000 square foot facility that is based in Paterson, New Jersey. Within our facility we have five different die cutting presses, both vertical and horizontal bandsaws, a fully automatic CAD abrasive wire cutting machine, a convoluter, a CNC router and reciprocating knife system.
Here at Carry Cases Plus we work with a variety of materials and both polyethylene foam and polyurethane foam, and because we fabricate all of our foam inserts in house you can be sure that you are getting the product that you need and that fits your application. With over 25 years of experience we are able to offer prototypes of our cases with a custom cut foam at absolutely no cost to you. Please contact us today for more information and to see if we can provide a solution for your application.