For All Your Production Needs, Turn to Wisconsin Metal Parts.
Laser Cutting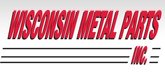 Our company began in 1988 as Die Concepts, Inc. We operated under that name for 22 years and throughout that time we expanded our skills and services in order to fulfill our customer's needs. While we maintain the same team of experts, in 2010 we changed our name to Wisconsin Metal Parts, Inc. to better reflect our many operations. We are a single source for all your production needs. Our cost effective services now include custom metal stamping, fiber laser cutting, EDM, CNC Machining, CNC surface & form grinding, sheet metal fabricating, contract manufacturing and assembly, prototyping and reverse engineering, and tool and die design.
At Wisconsin Metal Parts, we are customer centered. Our core values were envisioned to create a healthy work environment for our employees and to provide exceptional products for our customers. Above all else, we believe in honesty, excellent communication, integrity, maintaining a skilled workforce and strong work ethic, and fun. Our company follows the "Golden Rule"; we treat customers, employees, and suppliers with dignity and respect. We will work alongside you to build trust and to bring you a superior product.Our seasoned professionals set our company apart from others. We cross-train our employees so they maintain diverse skills and enable our workflow to be flexible depending on production needs. Because our employees are well-versed in the industry, we can help you save money, especially if we are involved at the beginning of the project. We are an ISO 9001: 2008 certified company with state-of-the-art equipment and processes. We serve a myriad of industries including automotive, appliance, electronics, power generation, food and beverage, medical equipment, heat transfer, telecommunications as well as military and defense. For reliable and high-quality metal parts, look no further than Wisconsin Metal Parts.