Innovative Foam Fabrication Services with Williams Foam
Polyethylene Foam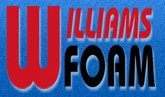 For over 30 years Williams Foam has been providing innovative solutions within the foam fabricating industry. Located in Sylmar, California, our recently renovated 80,000 square foot facility allows us to produce and streamline our production process and to increase the quality of our products for our customers. We specialize in the production of polyurethane, polystyrene, and polyethylene foams for the packaging, manufacturing, aerospace, automotive, and architectural industries. For many years, Williams Foam has been the go-to business for many customers foam fabricating needs.
Our capabilities include, but are not limited to the following: die cutting, contour cutting, laminations, convoluted foam, sheeting, perforating, sleeting, and skiving, dieless cutting, hot wire cutting and water jet cutting. We also offer expert services such as product consultation to find you the best match for your product, fabrication of anti-static foams, custom designs and production of protective materials, and customizing architectural foam shapes. Since 1983 we've proven to our customers the value we put into our products and the dedication we place in the field.
William Foams offers more than simple foam fabricating services. We offer our continued and unmatched support and knowledge for the craft, and a team of individuals dedicated to creating the best products available. Our products are of top quality and are very competitively priced. For more information about our products and services, feel free to visit our website or give us a call today.