Leader in Custom Blow Molding Since 1978
Plastic Blow Molding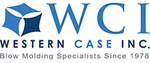 Since our founding in 1978, Western Case, Inc. has been one of the leading custom blow molding companies in the U.S. We are located in Southern California, but we have the ability to ship to customers in the U.S., Mexico, Canada, Europe, the Middle East and Asia. Whether your project is in the concept stage, or if you already have your products developed… our design, engineering, production, and marketing staff is ready to work with you.
Western Case has one of the best carrying case lines in the industry with over 50 case sizes ready for delivery. We have many designs available, from single-piece, integral hinge and latch cases to complex cases with metallic hinges and latches. Furthermore, cases with custom interiors and exteriors are available. Our experienced staff can design custom foam inserts that provide you with a perfect fit for your part.
Our facility in Riverside, California operates 24 hours per day and five to six days per week. We follow a Lean Manufacturing approach and offer in-house Design & Engineering Services. In order to provide the best production times, we have 12 blow molding machines, seven loading docks, and two 90,000 lb. silos at our production facility. Western Case has produced millions of blow molded cases and parts, gives us a call to see how we can help you.