Vibratory Feeders Act as the 'Hands' for Many Manufacturing Processes
by Rebekah Fuller, Editor for IQS
Take a look at the photos below. Now, take away the machine – that beautiful vibratory feeder – and imagine sorting all those small parts by hand. What do you see? I see the most mind-numbed line of manual laborers who will probably need to retire at 35 due to arthritis. Thankfully, the invention of vibratory feeders has been saving workers joints for a long time – not to mention streamlining production lines.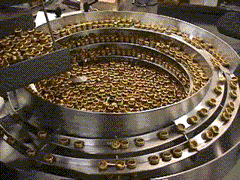 With one push of a button, a single employee can control hundreds of thousands of parts with ease. One operator can oversee a number of automated machines.
Vibratory bowl feeders are considered the oldest yet still most used automated industrial parts feeding solution. The basic design of the machine is a feeder bowl configured with a spiral track and equipped with a vibrating drive unit. As parts are fed into the bowl, the vibrating motion facilitates the sorting. Parts are vibrated onto the track and only correctly oriented ones leave the bowl. The track is designed to ensure consistent, repeatable positions, according to specified requirements. Incorrectly positioned parts are pushed back into the bowl to be redistributed.
Vibratory bowls are great solutions for small parts handling. For example, washers, being small in diameter and quite thin, could have a tendency to overlap on top of each other. Not with the right vibratory feeder! The specially configured track will feed in a single row every time. There is no double-feeding because the parts that try to override others are pushed back into the bowl.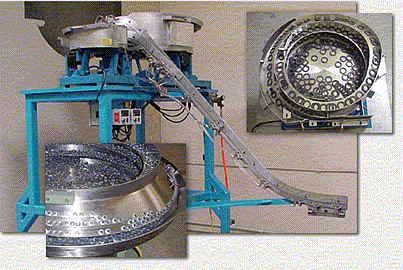 Vibratory feeders are not only terrific as parts feeders, but also for processing materials and ingredients, including powder, plastic pellets, dry chemicals, coal, metals, ore, minerals, aluminum, aggregates, grains, seed, dry detergents, ceramics, textiles, rubber, fibers, wood chips, salt, sugar and much more. Acting to control the flow of elements into mixing tanks and processing systems, vibratory feeders are utilized in chemical plants, mines, foundries, pulp and paper processing plants, metal working facilities, water and sewage treatment plants, and food processing plants, bakeries and pharmaceutical laboratories (if the feeder is constructed of stainless steel for sanitary requirements).
All vibratory feeders are not the bowl feeder style. Another popular construction is the vibrating long, flat bed that is often utilized in conveyor systems. This kind of vibratory equipment is used when loose bulk material is being conveyed, screened and fed in quantities up to tons per hour. The feeder guarantees even distribution of material from across an opening. The recycling industry relies on vibratory screen conveyors like these to separate reusable materials from waste.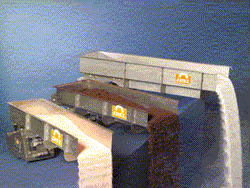 With the flexibility that vibratory feeding ingenuity offers, a multitude of industries benefit by saving time and money. Overall efficiency is the focus, from discharging coal from silos to processing pharmaceuticals to feeding parts of all kinds: molded plastic parts, electrical components, glass vials and stamped, formed or machined parts.
Vibratory feeders keep our hands from getting dirty – or worse – by effectively handling abrasive and even toxic materials with ease.