United Metal Fabricators, Providing Tubing and Pipe Bending Services
Custom Tubing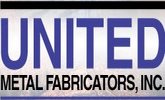 Since 1945, United Metal Fabricators, Inc. has been providing tube and pipe bending services for a range of industries. We supply companies throughout the world with high quality, tube fabricated products. United Metal Fabricators has built a reputation for exceptional industry products and experience within the customer specific standards. We are known for our quality, service, dependability and on-time delivery.
As tube fabrication specialists, United Metal Fabricators supplies custom formed and fabricated tubular and pipe assemblies for the chemical, nuclear, aerospace and industrial sectors. Our capabilities include bending, coiling, flaring, expanding, certified welding, brazing, beading, pressure testing, assembling, metal finishing, and non-destructive testing. We also offer an extensive line of services listed on our website. We use materials such as steel, stainless steel, copper, brass, aluminum, zirconium, titanium, tantalum, hastelloy, and Inconel for various tubing, piping, and forge forming products.
With the latest equipment and technologies in CNC tube fabrication and forming, we're confident you will find exactly what you're looking for. Our products are created with the highest level of accuracy at very competitive prices in the market. If you're looking for more information on all of our products and services, feel free to visit our website, or contact us with whichever method is convenient for you.