Trust PowerSafe Automation with Your Safety Needs – After All, Safety Is in Our Name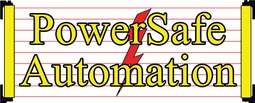 PowerSafe Automation recognized a void in the industrial market related to the need for improving workplace safety. PowerSafe is a leading expert in the machine safety industry providing turnkey solutions with custom design, fabrication, and nationwide installation. Applications include modular machine guarding, consumer products guarding, protective safety shields, robotic safety guarding, machine tool safety guards, industrial sound enclosures, hazardous containment enclosures, industrial security and safety gates, and power transmission shields, all with electronic safety integration.
PowerSafe takes machine safety to a technical level with a multitude of capabilities consisting of turning a basic machine guard into a "true" safety guard by integrating safety switches, safety light curtains, safety scanners, and safety mats into the customer's machine. Highly technical systems such as integrated door assists, palletizing safety systems, intrinsic safety systems, speed monitoring systems, emergency stop systems, and pneumatic safety equipment can be designed into these systems to provide a complete turnkey package. PowerSafe works directly with safety personnel, maintenance techs, and operators gathering information to provide the best solutions for their facility.
PowerSafe Automation is proudly partnered with ISNetworld (ISN), National Safety Council (NSC), American Society of Safety Professionals (ASSP), and the Better Business Bureau (BBB) to stay current while offering state-of-the-art machine safety systems. They have received several awards and had articles published for their work in the safety market. Check out the large gallery of installations provided to customers nationwide to get ideas for your facility. Stay connected through email, phone, online chat, scheduling a meeting, working with a local rep, or following us on social media.