Thuro Metal Products, Inc. A High-Value, Lowest Total Cost Provider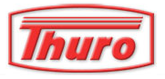 Thuro Metal Products, Inc. is an ISO 9001:2008 Certified contract manufacturer of custom machined precision component parts. We are dedicated to serving OEMs who are globally recognized market leaders, primarily in the fields of industrial products and equipment, automotive, aerospace and defense.
Our multi-tasking machine center, equipped with an in-house, state-of-the art, full-service tooling design and production department, allows our associates, who average more than 25 years of industry expertise, to invest in the process from start to finish, employing modern and efficient support equipment to prepare materials, measure and clean parts. From part preservation to packaging and logistics, we are fully equipped to meet and exceed your every requirement. Starting with our Automated Tool Management System, to our Automatic Parts Cleaning System, to our Automated Vision and Part Coordinate Measuring System, and ending with our unique packaging and product handling through to final packaging, our facilities and optimized processes allow us to provide our customers with the best service and products available.
Thuro Metal Products, Inc. has the CNC production machining capabilities to keep the lines moving, resulting in the most efficient production, speed to market and right on time delivery. There is no question of the perfect part since Thuro Metal Products, Inc. has the supply management expertise to ensure our partners are up to par with the quality of work, knowledge, expertise and innovation exemplary of our culture, mission and promise. Our team has acquired several performance, training and quality certifications ensuring production compliance, top quality parts and the lowest total cost. 100% customer satisfaction is always guaranteed.