Dynamometer Systems for Increased Performance from Taylor Dynamometer
Dynamometers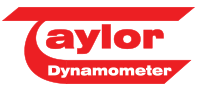 Founded in 1929, Taylor Dynamometer manufactures the most advanced dynamometer systems in the world. In May, 2016 Taylor Dynamometer acquired Dyne Systems, a leader and manufacturer of Eddy Current, AC and DC dynamometers, controls and drives. Dyne Systems brings 35 years of industry experience. The merger of these two powerhouses provides a stronger foothold in the engine, vehicle and industrial component testing industry by providing customers added experience, functionality and flexibility.
As global manufacturers of engine dynamometers, chassis dynamometers and towing dynamometers, hydraulic test centers, data acquisition and control systems, electronic motor testing systems and turnkey test cell solutions; Taylor is the benchmark in test cell integration, safety and sustainability. Taylor strives to provide customers with the safest Test Cell environment possible. From helping you select the proper location(s) within your facility to choosing the proper test cell equipment. Taylor also offers customers a variety of services including: test cell design services, project and construction management services, onsite services, rebuild, remanufacturing and repair services and shop level drawing review services.
Taylor offers lifetime product support to customers. For over 90 years Taylor has been helping customers get the most out of their testing equipment. Visit our website or give us a call today!