IQS Directory Featured Profile: Tanis Incorporated
by Amy Harris, IQS Editor

For almost 25 years, Tanis, Inc. has been shaping brush technology through a corporate commitment to technology, discovery and investments in engineering talent. The innovative product designs developed by Tanis gives them a leading edge over the global competition and offers customers the latest in production and process solutions.
Known for their vast selection of brush products, resourceful custom-design capabilities and exceptional customer service, Tanis Brush is fast becoming the industry leader in brush manufacturing. Since 1987, the Tanis team of dedicated employees has remained committed to providing customers with total customer satisfaction throughout the entire customer buying experience. ISO 9000:2008 certification brings excellence into Tanis' daily work environment and encourages them to persistently question and improve their processes, fostering a culture of quality and continuous improvement.
Tanis' corporate campus, which includes more than 64,000 square feet of combined facility space, utilizes the latest brush manufacturing technology with state-of-the-art automation equipment, ensuring quality, consistency and value. Their stock and standard brush offerings include abrasive, twisted, rotary, strip, stapled set, power and utility product categories. Custom, quality, and cost-effective brush constructions are engineered and designed for a global customer base in a vast array of industries such as agriculture, printing, food processing, automotive, aerospace, metal fabrication, medical, military and much more.
Tanis supports and encourages their customers' new product discovery by offering engineering, prototyping, and testing services. Product bar coding, labeling, packaging, subassembly and electronic ordering are value-added services provided to help simplify customer logistics. The connection begins with a phone call to Tanis' sales staff or a visit to the www.tanisinc.com website, where a customer can explore the Tanis brush offering, or design their own brush online.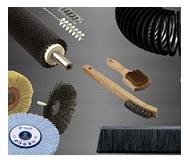 Image provided by Tanis Incorporated.
IQS Directory Featured Profile: Tanis Incorporated

,