Check-All Valve Manufacturing Co. Offers Highly Innovated Check Valves
Check Valves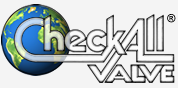 Check-All Valve Manufacturing Co. has manufacturing experiences dating back to 1958. Over the years our company has been on the forefront of creating the most reliable and long-lasting check valves on the market. We are an internationally recognized turn-key supplier who strives to provide our customers with durable and innovative fabrications.. We create a number of check valve configurations including: flange insert, sanitary cartridge, union insert, universal low/high pressure and wafer. The engineers at Check-All Valve design our products to provide silent operation with spring loaded loaded functionality which optimizes its location to be separated from any potentially aggressive solutions.
All of the products manufactured by the engineers at Check-All Valve Manufacturing Co. are designed to be rugged, efficient, and built to performance specifications. Our company has acquired a number of certifications including: B16.34, ISO 9001-2008, NACE MR0175/ISO 15156 & MR0103, 3A Sanitary Standards and more. Our top of the line products come in a number of materials such as 316 Stainless Steel, Alloy 20, Carbon Steel, Alloy B, Alloy C-276 and Monel. Check valves are utilized in a wide range of applications and our highly trained staff is available to help determine the most ideal solutions for a particular application.
Check-All Valve Manufacturing Co. is a one-stop-shop provider, offering a variety of secondary services. Our operations are ideal for tagging and testing all products based on the specifications of the application. Our spring check valve items are designed to handle the most demanding processes. For more information regarding Check-All Valve Manufacturing Co. please visit our website or give one of our representatives a call today!