Spiral Brushes – Manufacturing and Designing a Variety of Brushes
Spiral Brushes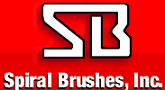 Since 1939 Spiral Brushes Inc. has been providing industrial brush application solutions. Spiral Brushes, Inc. manufactures power brushes , strip brush seals and spiral-wound cylinder brushes that are suited to a wide variety of commercial end-use applications. Spiral Brushes' line of power brushes are used on a range of industrial equipment, including bench grinders, angle grinders, hand-held drills, drill-presses, CNC, and various in-line production brushing equipment applications. At Spiral Brushes, we are dedicated to meeting our customer's high standards and requirements for all their brush needs.
Spiral Brushes' commitment to quality goes hand in hand with our company's values, and is distinguished by our ability to custom design and manufacture brushes to fit customer's applications. We use only the best brush fill materials including wires of steel, stainless steel, brass or bronze, and synthetic or natural materials including nylon, abrasive nylon, polypropylene, Tampico, or horsehair, as well as other higher grade materials on special order. Spiral Brushes will work with you to select the best brush from our line or to design and manufacture a brush for you needs. Our line includes wheel brushes, cup brushes, end brushes, twisted knot brushes, twisted-in-wire brushes, manual scratch brushes, strip brush seals, cylinder brushes, conveyor cleaning brushes, bakery oven brushes, centerless grinder brushes, and pipeline inspection brushes.
We maintain a reputation for high quality products and custom-brush service lead times that out-deliver the competition. Our brushes are reliable and competitively priced to meet the demands of our customers. If you have any questions about our products, feel free to check out our website or give us a call today. We look forward to hearing from you.