Custom Solutions for all Your Adhesive Needs from SpecialtyTapes.com
Tape Suppliers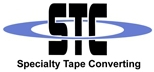 Founded in 1967, Specialty Tape Converting is the premier choice for high performance and customized tapes. We offer an extensive variety of double-coated, adhesive transfer tapes, traction tapes, and tamper evident tapes from 3M, Tesa, Intertape, and Shurtape. In addition to those we offer foam tapes, foil tape, gaffers tape, cloth tape, Teflon tape, Kapton tape, custom printed tape and more. Each tape is specially produced to suit the requirements of each applications, such as, bonding, mounting, splicing, sealing, masking, bundling, shielding, and identification.
Each type of tape has features that make it ideal for application. Artist tape can be reposition and removed without hassle or residue and can reapplied. It can be easily written on for quick identification or labeling. Assortment of sizes and colors. Kapton is a high temperature masking tape, with no residue once it is removed. Kapton tape can withstand temperature up to 500 degree Fahrenheit, making it ideal for industrial applications. Double Coated Foam Tapes are thicker and more compressible than film or paper based tapes. This allows for improved bonding and conformability on highly textured surfaces. All our tapes come in custom widths, roll lengths, weights, and provide long lasting adhesion.
Custom printing is a great way to reduce shipping cost while still branding your product. We offer the largest selection of customizable tapes. We can print on film, Kraft, making, flat back paper, gaffers tape, filament tape. Along with customizable printing, we offer preprinted tape to offer clarity and lasting legibility to ensure your items are handled correctly. Using custom printed tape is less expensive than having boxes printed with your company's logo. All of our tapes are designed to suit the specific needs of the industry. Our dedicated staff will review your requirements with you to help determine the best tape for your application.