ProTec Strategic Group Advanced Friction Materials
Friction Matertials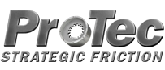 Since 1988 ProTec Strategic Friction Group has been creating and advancing different solutions for a wide range of friction materials and forms. As a US-based worldwide producer of reliable solutions for some of the most demanding friction applications and environments, ProTec is dedicated to making products that make your business easier. We are a lean operating unit, drawing on a global scale to solve problems quickly and cost effectively.
Our advanced friction formulation capabilities allow us to provide unique and marketable solutions for brake and clutch rebuilders, equipment dealers, and assembly-line manufacturers. We offer a wide range of proven friction materials and also offer specialized services to fit your friction needs. Through our specialized services, we are there from start to finish, from application design, parts identification, materials selection and engineering to testing, manufacturing, and delivery. Our commitment to finding an innovative friction solution goes unsurpassed, and our formulation developers with decades of experience are always looking for a new challenge.
ProTec's mission is to create value through innovative and unique products for virtually every heavy duty and high performance vehicle. From start to finish, whether you are a dealer or a rebuilder, ProTec is there providing quality products that have proven their worth over time. We want to be there for you. Check us out at our website or give us a call today. We look forward to working with you for all your friction needs.