The MotoDrive™: A New Integrated Stepper Motor Linear Actuator and Chopper Drive by Haydon Kerk Motion Solutions
by Haydon Kerk Motion Solutions, Inc.

News Release
Haydon Kerk Motion Solutions, Inc., a premier manufacturer of linear motion products, introduces the MotoDrive™ PDE Captive Linear Actuator, available in size 17 single or double stack. The MotoDrive comes with an integrated chopper drive forming a compact system that is ideal for precision motion control applications.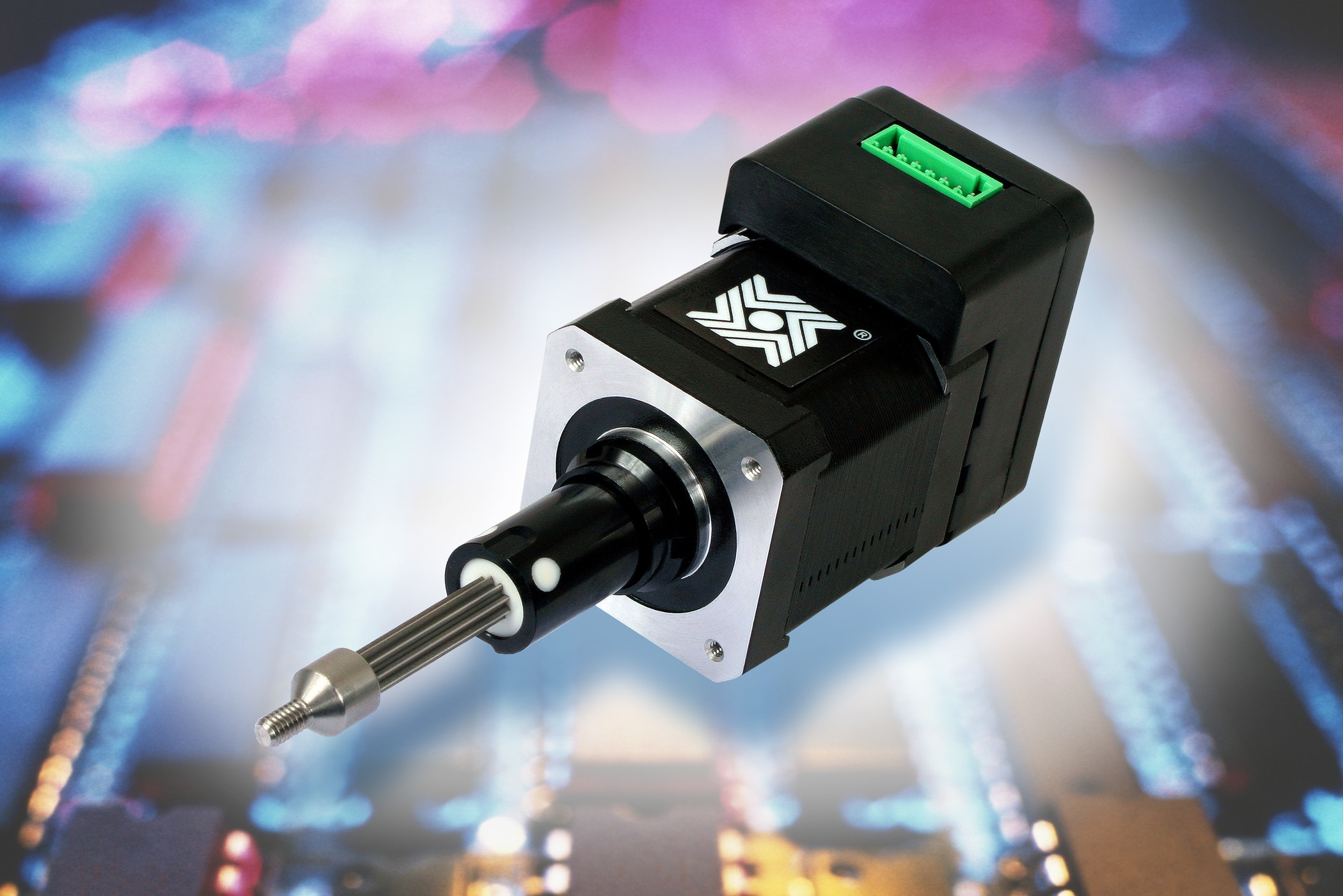 Avaliable with a Haydon size 17 stepper motor
The MotoDrive captive linear actuator system is capable of an output force of 220N (50 lbs) for the single stack version and 350N (78lbs) for the double stack version. The captive configuration allows a self-contained linear actuator unit with an anti-rotation device guiding a splined output shaft. The captive configuration of the MotoDrive is ideal for applications requiring shorter stroke lengths (up to 2.5") such as precision fluid dispensing, throttle control, and valve movement. The load connects to the threaded shaft end.
The MotoDrive can be programmed for micro-stepping with a step resolution range of 200 full steps per revolution to 12,800 steps per revolution when micro-stepping. With a supply voltage of 12 to 42 vdc, the MotoDrive electric actuators functions with a run current programmable up to 2.6 Arms per phase. Optically isolated inputs of pulse, direction, and enable signals are required for operation. The PULSE input is a square wave that sets the speed of the actuator. The DIRECTION input is either a high or low signal using a 5vdc for shaft extend and ground potential for shaft retract. The ENABLE input is also a 5vdc signal that activates the drive for operation.
Hold current on the drive is adjustable and can be selected as zero, 25, 50, 75 or 100 percent of run current using a jumper and associated pins located in a connector on the side of the drive. For more information on the MotoDrive Captive PDE actuator, please contact Haydon Kerk Motion Solutions at info@HaydonKerk.com.

About Haydon Kerk Motion Solutions, Inc.
Haydon Kerk Motion Solutions, Inc. is the joining of two world class brands in the field of linear motion; Haydon Switch and Instrument, Inc. and Kerk Motion Products, Inc. Together, the company now offers a broad range of precision linear motion products. Recognized as a leading manufacturer of stepper motor based linear actuators, rotary motors, lead screw assemblies, and linear rail and guide systems used in niche market applications, Haydon Kerk Motion Solutions offers high performance with its range of reliable, precise designs. Haydon Kerk Motion Solutions has developed industry-renowned brands built upon its technical innovation, versatility, customization, product durability, and dedicated customer service. For more information, please visit our website at www.HaydonKerk.com.
Contact: Marcia Colucci
Marketing & PR Coordinator
203-756-7441 x 255
mcolucci@haydonkerk.com