Rotron® brand "CP" regenerative blowers exhibit extremely high resistance to corrosion and chemicals encountered in the most demanding chemical processing applications. Their proprietary surface finish combined with optimized performance technology promote ideal service in vent header off-gassing, spot source, bio-gas and/or landfill gas, and scrubber applications, among others.
The blowers undergo a unique Chem-Tough™ finishing process, which converts their aluminum casting to a highly advanced ceramic-like surface. This creates unprecedented resistance to corrosion and chemicals, abrasion resistance equivalent to steel, increased hardness, and permanent dry lubricity.
These oil-free and low-noise blowers employ regenerative air technology to develop ideal air pressures and vacuums without the higher energy and maintenance costs typically associated with larger multi-stage or positive air-displacement blowers and compressors.
They supply clean, oil-free air; rely on few moving parts (minimizing wear, tear, maintenance, and downtime); feature sealed blower assemblies for minimum leakage; and incorporate chemical-duty motors with 303 Series stainless steel shafts for added corrosion resistance.
Rotron "CP' blowers can achieve flows up to 1000 SCFM, pressures up to 230 IWG, and vacuums up to 174 IWG, depending on blower style. Standard blowers can be customized and augmented with optional accessories to satisfy particular application demands.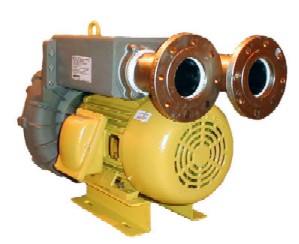 AMETEK Technical & Industrial Products is a unit of AMETEK, Inc., a leading global manufacturer of electronic instruments and electromechanical devices with annual sales of more than $2.5 billion.
Contact Jay Jarboe, AMETEK Technical & Industrial Products, 627 Lake Street, Kent, OH, 44240. Phone: 815-877-5404. Fax: 815-877-5644. Web site: www.ametektechnicalproducts.com
Rotron® 'CP' Regenerative Blowers Exhibit Unprecedented Corrosion Resistance

,