Rogers Introduces Improved Poron Soft Seal Urethanes with Improved Surface Toughness

Rogers, CT – Rogers Corporation is pleased to announce a recent improvement to the PORON® Soft Seal Series in the form of enhanced surface toughness. PORON Soft Seal Urethanes are the lowest density PORON offering and are designed to provide superior compressibility, conformability and dust sealing over the life of the product.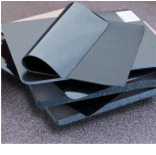 When used for display gaskets within handheld electronics, PORON Soft Seal materials are often paired with a removable adhesive cover liner during processing and assembly. In the past, the delicate nature of PORON Soft Seal required careful selection of removable adhesive cover liners in order to prevent the foam from tearing when the liner was removed. The increased surface strength of the Improved PORON Soft Seal materials addresses this issue and allows it to be used in a wide range of applications and with a wide range of cover liners without compromising the design.
Rogers has increased the surface strength of PORON Soft Seal materials, thereby allowing for improved yields and ease of processing. Extensive testing shows that even when an aggressive adhesive tape is removed, the amount of foam tear is dramatically reduced when using Improved PORON Soft Seal Series materials.
Improved PORON Soft Seal materials maintain the same superior properties as before – excellent compressibility and conformability, long term protection and sealing, chemical resistance, and the ability to function across a wide range of temperatures. PORON Soft Seal materials provide premium softness and high compressibility, allowing them to fill gaps as small as 0.2mm while still maintaining a low closure force. Additionally, Soft Seal Urethanes effectively conform to curves and provide extra-tight seals, making them ideal for today's ultra-thin device applications.
For more information on Improved PORON Soft Seal Urethanes visit www.rogerscorp.com. Click on Mobile & Consumer Products under Electronics and see Improved PORON Soft Seal Urethanes under Featured Products.



About Rogers Corporation
Rogers Corporation (NYSE:ROG), headquartered in Rogers, Conn., is a global technology leader in the development and manufacture of high performance specialty material products for a variety of applications in a wide range of markets including: portable communications, consumer products, communication infrastructure, ground transportation, and aerospace and defense. Most of the Company's products are covered by trade secrets or patents. Rogers operates manufacturing facilities in Arizona, Connecticut, and Illinois in the U.S., in Gent, Belgium and in Bremen, Germany in Europe, and in Suzhou, China. Asian sales offices are located in Japan, China, Taiwan, Korea, India and Singapore. Rogers has joint ventures in Japan and China with INOAC Corporation, in Taiwan with Chang Chun Plastics Co., Ltd. And in the U.S. with Mitsui Chemicals, Inc. The world runs better with Rogers. ® www.rogerscorp.com.
Contact
Bob Mayoh
VP Account Services
Sheppard Leger Nowak, Inc.
P: (401) 276-0233 ex. 0
E: mayoh@slnadv.com
Rogers Introduces Improved Poron Soft Seal Urethanes with Improved Surface Toughness

,