MOKON Offers Heating/Chilling System in One Package

BUFFALO, N.Y. – (January 22, 2010) Mokon's Full Range process temperature control system offers a combination heating/chilling system in one convenient package. These units are ideal for applications including jacketed vessels, reactors, multiple-zone processes, laboratory, sanitary, food processing, chemical processing, and other processes that require both heating and chilling.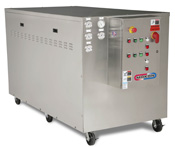 Mokon's Full Range System integrates a Mokon circulating water system with an Iceman chiller to provide heating and chilling from a single, compact, self-supporting unit for optimal performance. The system is ideal for applications that require a wide variety of temperatures. They are also practical for applications that require multi-zone control and installations where supply water or drains are not accessible.
The Full Range System is available in heating capacities up to 96 kW, pumping capacities up to 120 gpm, chilling capacity from 2 to 40 tons, and has a temperature range of 20?F to 300?F (-7?C to 149?C). Full Range Systems offer many standard features to provide accurate temperature control while heating and/or chilling processes:
· Stainless steel centrifugal pumps
· Highly efficient brazed plate evaporator
· Insulated nonferrous plumbing and components
· Microprocessor-based controller with LED readout
· NEMA-rated electrical enclosure with safety disconnect switch
· Heater canister with stainless steel diverter
Mokon's Full Range Systems meet NFPA 79 electrical safety standards for industrial machinery and are equipped with UL labeled electrical sub-panels. The overall design provides for long-life, durability, and accurate continuous process control. Built with many unmatched features and capabilities, Mokon's engineers will custom design systems to meet specific process requirements, including NEMA 4, NEMA 4x or special washdown demands. A wide variety of additional options are available, including stainless steel construction.
For over 50 years, Mokon has set the standard for high quality circulating liquid temperature control systems. Through the development of new products, refinement of existing designs, and our ability to create custom engineered solutions, Mokon has consistently demonstrated its ability to foresee the evolving needs of customers in plastics processing, packaging, converting, composites, medical/pharmaceutical processing, chemical processing, rubber, printing, general processing, and many more industries.
The company's product line has grown significantly since it first introduced a water temperature control system in 1955 to include heat transfer oil systems, portable and central chillers, pump tanks, cooling towers, blown film coolers, cold climate coolers, engineered and pre-engineered control panels, maintenance products, and custom designed/engineered systems.
Mokon's "Made in America" commitment – Mokon proudly designs and manufactures its circulating liquid heating and chilling equipment in the USA.
For more information, contact:
Mokon: Buffalo, NY 14207.
Phone: 716-876-9951
Fax: 716-874-8048
www.mokon.com.