BUFFALO, N.Y. (December 8, 2009) – Mokon announces their redesigned Blown Film Air Coolers that offer improved performance, energy efficiency and reduced space requirements. This new compact design features an air inlet diffuser that creates a more uniform airflow across the cooling coil and decreases delta temperature approach. In addition, the leaving air chamber is insulated to reduce condensation while providing the coldest air possible to the air ring.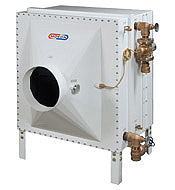 The BFC Series offers an increase in blown film productivity, especially in warmer climates or environments where ambient air temperatures rise during the summer, by eliminating production variables in air ring supply, including air temperature, pressure and volume. Models are available in sizes from 600 CFM to 7,500 CFM. The overall design provides for long life, durability and accurate air ring process control. Other features of the Blown Film Air Coolers include:
· Powder coated (inside and out) heavy-gauge steel cabinet designed for 35-inch static pressure
· Noncorrosive wetted surfaces
· 16-inch or 35-inch static pressure blower packages
· Permanent cleanable filter
· Condensate trap
· Drip condensate pan
· Bolt-on adjustable legs
· Dial thermometers for chilled water inlet, outlet and leaving air
· Pre-piped with optional two- or three-way chilled water control valves
· Stackable designs are available
For over 50 years, Mokon has set the standard for high quality circulating liquid temperature control systems. Through the development of new products, refinement of existing designs, and our ability to create custom engineered solutions, Mokon has consistently demonstrated its ability to foresee the evolving needs of customers in plastics processing, packaging, converting, composites, medical/pharmaceutical processing, chemical processing, rubber, printing, general processing and many more industries. The company's product line has grown significantly since it first introduced a water temperature control system in 1955 to include heat transfer oil systems, portable and central chillers, pump tanks, cooling towers, blown film coolers, cold climate coolers, engineered and pre-engineered control panels, maintenance products and custom designed/engineered systems.
Mokon's circulating liquid heating and chilling equipment are proudly designed and manufactured in the USA.
For more information:
Mokon, Buffalo, NY 14207.
Phone: 716-876-9951
Fax: 716-874-8048
www.mokon.com