Columbia Machine, Inc. realizes how important it is to ensure a safe working environment, while providing optimal performance from your palletizing equipment. These enhanced standard safety features offer the highest level of protection for your employees, protection they deserve.
Category 3 Electrical Circuits include A-B SensaGuard dual circuit safety interlocked door switches and Sick type 4 light curtains in the discharge area. Upper Level Guarding on all High Level Palletizers includes both a perimeter hand railing along with guarding to protect personnel from moving parts. Case Entry Guarding is included on both high level and floor level palletizers in the form of a moveable "tunnel" or guarding with access door, providing additional operator protection while allowing for easy access.
New standard features on all Columbia palletizers increase palletizer performance by allowing the operator to quickly get the palletizer back into automatic. For example, Fallen Case Detection is now standard on all High Level Palletizers, preventing hoist damage in the load building area. Easy to Operate Controls Package offers a simple way to add or modify patterns, adjust PLC timers and VFD speeds, generate production reports and provides enhanced alarm data with sequential troubleshooting support.
For more than 45 years, Columbia Machine has manufactured high-level, floor-level, and robotic palletizers and accessories. Columbia features flexible, upgradeable palletizer designs to rates of over 150 cases per minute. All Columbia palletizers are built in the USA and backed by 24-hour customer support and parts service.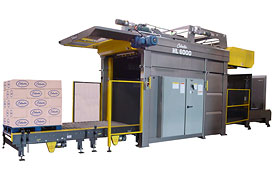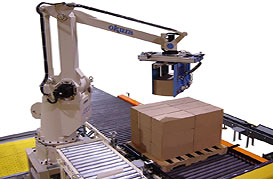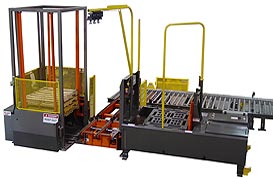 Enhanced Safety and Performance

,