Precision Waterjet Concepts: A Story of Continual Growth and Improvement
Founded by Joel Quaal and Seth Jackson in 2002, Precision Waterjet Concepts is a forward thinking company that prides itself on quality workmanship and sustainability. The ISO9001:2008 registered water jet cutting services provider offers machining and CMM inspections as well as waterjet capabilities, and manages their customers' projects from the concept through shipping and even re-orders and full-service solutions. Equipped with 2-axis waterjet, 5-axis waterjet, as well as other machinery for a variety of waterjet cutting applications, the state-of-the-art facility also recycles the hot water from their machinery and uses it to heat the building through an in-floor heating system.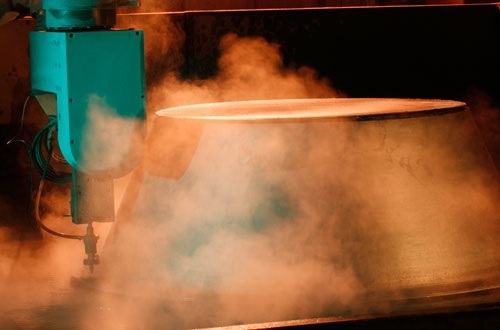 Photo Courtesy of Precision Waterjet Concepts
Starting with one 5-axis waterjet gantry and one 100 hp intensifier in a 2,500 square foot building, Precision Waterjet Concepts grew its customer base, added production employees and moved to a building twice that size in 2004. By 2008, the company had moved to a 19,000 square foot facility with a 100' by 150' production area with the capability to house up to ten waterjet machines, loading docks, and a drive through bay for delivery trucks. Over the last several years the company has continued to expand its customer base and become more involved in trade shows and industry events.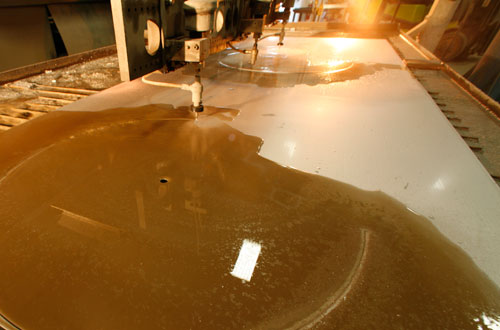 Photo Courtesy of Precision Waterjet Concepts
Precision Waterjet Concepts is a proud company, proud of where they came from and how far they have come. Their growth is a testament to their never ending commitment to quality and service. Achieving ISO 9001:2008 quality certification in 2009, Precision Waterjet Concepts looks forward to a future of continued improvement and serving new customers with the same quality that has earned them their outstanding reputation in the industry. Precision Waterjet Concepts has come a long way in twelve short years because their final product speaks for itself. Find out how your company can benefit by making Precision Waterjet Concepts your source for all of your water jet cutting, metal fabrication and CNC machining requirements. Contact their dedicated team today!