IQS Newsroom Featured Profile: Precision Filtration Products

The team here at Precision Filtration Products is on a mission to be the best full-service industrial filtration company, in both the distribution and manufacturing sectors. This means that we offer the highest quality products, a superior level of knowledge and creativity, as well as a quick turn-around time. We continuously strive to provide you with excellent service by helping you to find and/or design the exact product that YOU desire. Our company was born in 1994 out of very humble beginnings, working out of a small house and unloading tractor-trailers by hand with no forklifts. At that time, each member of our small team "wore many hats", and we worked during all hours of the day and night to fulfill our customers' requests. Gradually, we started offering more products, we found more help, and we started expanding at a rapid rate. Today, we are a full team of professionals with 50+ years of experience in the filtration and manufacturing industry.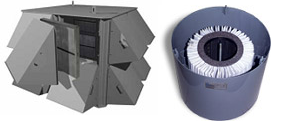 Product Photos Courtesy of Precision Filtration Products
Since our inception we have consistently added new product lines that target industry trends. Our largest growth period was when we started manufacturing OEM-style and customized filters and filtration systems. This really set us apart from similar companies in our industry. More recently, we have expanded our fleet of rental filtration equipment, including portable filter carts for lube oil and hydraulic oil, and we have created a dedicated customer service department and expanded and improved our custom filter manufacturing capabilities. In addition, we have started venturing into the residential sector by now offering EasyWater Water Treatment systems, which are an effective and efficient way to treat hard/soft water problems at home. Although we can provide you with nearly any type of filter for any application in any industry, we primarily target the industrial filtration market, especially companies in the power generation sector (i.e. power plants, oil refineries, gas pipelines, wind turbines, liquid terminals). We believe that we push the boundaries of the industrial filtration market by providing full-scale on-site filtration service, continually adding new products and diversified services to our lineup, and by providing excellent customer service.
In the future, we expect to see more business from two main areas: hydraulic oil cleanliness and residential water filtration. More and more industrial companies are realizing that, by properly taking care of their equipment's lube oil, they can significantly increase the lifetime of their machinery (especially in power plants, refineries, and manufacturing facilities). We provide you with the exact solutions that YOU need to purify your lubricating oil, which will minimize your downtime and decrease your need to purchase oil at high prices. In addition, over the next few years, we also expect to see more incoming requests for home water purification solutions. People are becoming more aware of the residual chemicals and contaminants that exist in their municipal water supply. It is becoming important to people to purify their household water as best as possible.

Photos Courtesy of Precision Filtration Products
In the future, you will definitely continue to see us offering more items in our lineup of portable filtration equipment geared toward hydraulic oil cleanliness, as well as products for home water filtration and treatment. We also expect to see increased interest in our portable units, especially our pneumatic- and electric-powered filter carts of varying GPM ratings, our oil drum-top filtration units, our "mini-max" hand-held filter unit, and our vacuum dehydration oil purification systems. Thanks to our recent partnership with EasyWater, we now offer their No-Salt Water Conditioning System, the Iron Shield, and the Revitalife Reverse-Osmosis Water Purification System. These products are geared toward residential customers, but they can easily be used in an industrial environment as well. Do we wish to see an increase in sales in the future? Sure! But more specifically, we would like to see more service jobs, rent out more filter equipment, and get more residential business. Do you have any questions or comments? Feel free to contact us any time during our business hours and a friendly member of our team will be glad to speak with you.
IQS Newsroom Featured Profile: Precision Filtration Products

,