Vibratory Feeders: Improving Products and Improving Productivity
by Breana Cronk, IQS Editor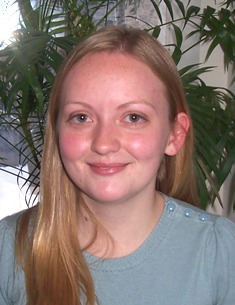 Vibratory feeders are relatively simple devices that play a large role in modern manufacturing. From legos to ball screws and even coins, these parts feeders are used in a plethora of applications. Far from the only type of conveying available, vibration methods compete with several other techniques designed to move and orient materials. Despite contest from pneumatic, screw and other conveyors, vibratory feeders continue to be used in a broad array of industries. These devices have long been lauded for superior material handling in many applications, but their advantages do not end with the transport of delicate, sticky and friable items. Instead, the many benefits translate into improved product quality and increased productivity.

Photo courtesy of General Kinematics.
Understanding the basic function of vibratory feeders is essential to understanding the many benefits they offer. There are two basic types: vibratory bowls and vibratory conveyors. A bowl feeder, as the name would suggest, has a bowl like cavity. Around the edge is a spiral track. Vibrations of varying speed and strength move items or materials from the base up and around to an outlet located near the top. In the process the items are sorted and oriented. Vibratory conveyors also use variable tremors to move products, but do so in a linear motion, moving products and materials along a trough or screen. While the processes is simple, the adjustable movement is key to the success of vibratory feeders as it allows fragile and precision items to be moved without the risk of damage associated with more forceful transport.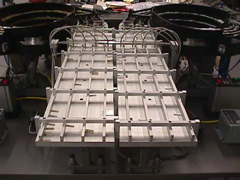 Photo courtesy of Feeder Dynamics.
As promised, the safe and efficient transport of materials is not the only benefit of the vibratory feeder. Both linear feeders and rotary models offer an automated alternative to manual handling of objects which inherently cuts costs to the manufactures as does reduced maintenance due to the lack of moving parts. Because these machines have such a simple design, one operator can easily oversee a number of vibratory machines to ensure quality while parts align, count and sort at a rate much higher than could be accurately managed by personnel. The benefits are extended not only to the manufacturers, but also to the remaining workers. Some vibrating feeders are programmed to move as much as 6000 tons of product per hour. The continuous and monotonous movement of large or even small parts causes considerable strain on employees. Allowing them to sit back in an ergonomic position and merely monitor the vibratory transport of these materials reduces worker injury, a benefit to both employer and employee.
If reduced product damage, safer workplaces and lower maintenance do not suffice, vibratory feeders offer yet another benefit being taken advantage of in an increasingly broad number of applications with the advent of 'green' manufacturing. Many times the trough or bowl used to move materials is comprised of vibrating screens. These serve to recover any loose materials which may be recycled or returned for further processing. As always with recycling, this saves materials and cuts costs. Practical and productive, vibratory feeders are an excellent way to move products safely, securely and with optimal use of material and money.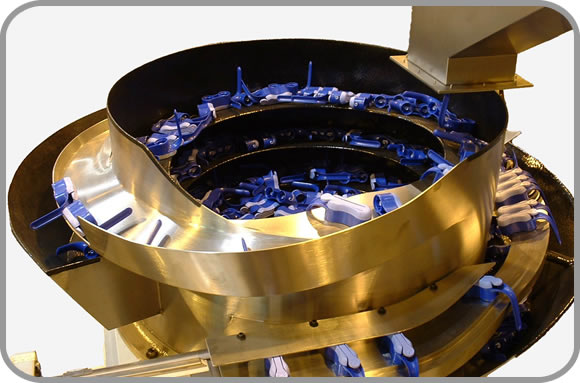 Photo courtesy of Jerhen-Warren Industries, Inc.
Vibratory Feeders: Improving Products and Improving Productivity

,