Saving the Environment and Saving Some Green with Eco-Friendly Cooling Towers
by Breana Cronk, IQS Editor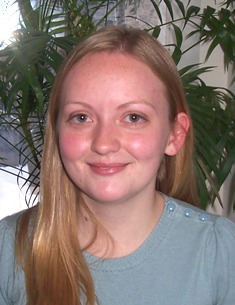 The phrase 'cooling tower' often conjures up iconic images of the grandiose hyperbolic cooling towers most closely associated with nuclear power plants. While this may seem to be the opposite of environmental friendliness, cooling towers are actually used in a number of industries and provide enormous possibilities for green processing. Also known as heat rejection devices, water flowing through any given tower may encounter several different kinds of harmful chemicals before being exhausted into the atmosphere or even nearby lakes and streams. Fewer chemicals, better design and hardier material construction are all simple changes that reduce the environmental impact of these often large cooling systems. Going green, however, is not just about reducing harmful emissions; it's about improving efficiency, the bottom line for most industry.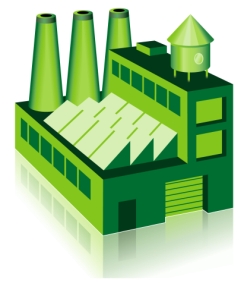 There are three main avenues for improving the efficiency of cooling towers while reducing a plant or facility's carbon footprint. The first opportunity for change comes before a single drop of water or process fluid is cooled. The design and construction of an individual cooling tower has a tremendous impact on both longevity and performance. While traditionally made of galvanized or coated steel and other metals, towers made of plastics, such as molded high density polyethylene, last decades longer and do not require chemical treatments to prevent corrosion or rust. This eliminates potential water and air contamination while reducing maintenance and even disposal costs as the plastic towers can be recycled should they become obsolete.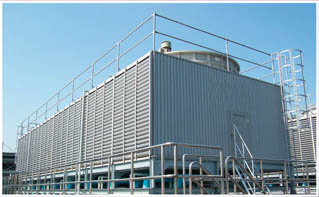 Photo courtesy of Cooling Tower Systems, Inc.
Cooling tower design also plays a role on the second venue for savings and 'greening,' energy efficiency. While powerful fans are often used to facilitate the flow of materials through a tower, these incur substantial drains on energy sources. Natural draft cooling towers, however, are specially designed for use without electric fans, instead relying on gravity and natural convective airflow. Although the most efficient option available, natural draft requires that a cooling tower be very large, larger than would be required by many applications. For this reason and others, many applications require mechanical or forced draft. This does not eliminate all hope of environmental and economic savings as manufacturers can easily install direct-drive motors in place of electric motors. Direct-drive options deliver more horsepower as well as significant reductions in energy expenditures.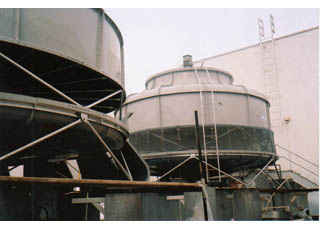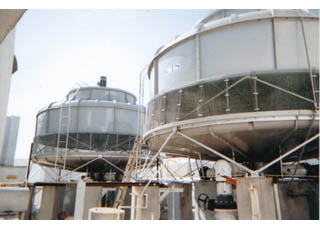 Photos courtesy of Cooling Tower Systems, Inc.
Similar to energy efficiency, the final avenue for savings is partially reliant on the initial design of a given cooling tower system. Although water use is one of the most environmentally challenging aspects of cooling towers, simply using counterflow designs which work with gravity rather than crossflow to cool process streams requires significantly less water. Improving cycles of concentration (COC) is also important as even small changes, for example moving from two to four COC, offer as much as 67% improvements in blowdown. The economic use of water reduces costs at both the front and back end of industry as utility and wastewater treatment often encompass large portions of a company's total budget. Lower water usage therefore means lower cost as well as lessened impact.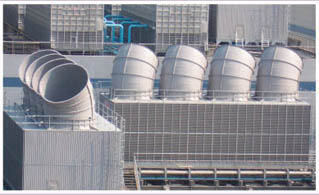 Photo courtesy of Cooling Tower Systems, Inc.
While some of these options have been available in the past, it is only recently that they have become a viable option for large scale operations. Plastic cooling towers, for example, were once limited to capacities below 250 tons, but with modern technology can accommodate up 2,000 tons per unit. Coincidentally, right now is the best time to consider making the transition to green cooling tower technology. With increasing national and international ambition for environmentally friendly practices, organizations such as the U.S. Green Building Council LEED are offering credits, grants and other funds to help cover the initial costs. The building and installation of industrial cooling towers is an expensive endeavor and aside from external financing opportunities, green cooling towers offer little relief. What they do offer, however, is improved sales due to enhanced public image and superior efficiency which cuts long term costs for both the company and the environment.
Saving the Environment and Saving Some Green with Eco-Friendly Cooling Towers

,