The O-Ring Store – Providing Exceptional Products and Services
O-Ring Seals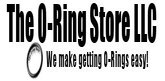 Here at The O-Ring Store, we make getting O-Rings easy. With a new 6,500 square foot facility, getting O-rings has never been more accessible and affordable than with our company. As a family owned business, we take pride in giving our customers the best products and services in the industry, and strive to exceed all of your expectations. As we continue to grow, we plan on offering new products and services to enhance all that we already do offer. Let us help you find O-rings that suit all of your product specifications.
With plans of being the best supplier of O-rings, seals, and O-ring kits we have several goals to get us there. We strive to build an O-ring repair kit for every piece of equipment out there, to increase our product offerings upon customer requests, to assist customers in O-ring and seal product identification, and to supply quality products at a competitive price, all while treating our customers with care and respect they deserve. With a huge selection of O-rings, hydraulic seals, O-ring kits and accessories, we're confident that you will find exactly what you're looking for.
For more information on our products we offer feel free to check out our website, theoringstore.com. We have specific information on the materials, size chart, and groove chart for our O-rings and seals with detailed product descriptions. Sales and customer service staff is standing by to provide you with the best service that we can provide. Feel free to reach us with whichever method best suits you, we'd be happy to help.