NEW CORNERSTONE-WS WORKSTATION NOW AVAILABLE
Sovella's NEW Cornerstone-WS Workstation Replaces Basic Workstation,
Redesign Brings Greater Strength and Stability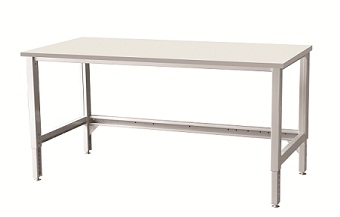 KENNESAW, GEORGIA – September, 2012. As a leading manufacturer of industrial workbenches and accessories, Sovella continually seeks to improve and perfect our wide range of products, and provide solutions that best meet the needs of our users. With those needs in mind, Sovella has introduced a new line of standard workstations to replace the previous "Basic" table product line.
The new Cornerstone-WS workstation has an increased max load capacity of 1500lbs (previously 660 lbs with the Basic table frame), and an improved leg design that allows for greater strength and stability. The new table utilizes all Sovella standard accessories and also allows for easy attachment of Sovella Drawer Units 30, 35, 38, 45 using standard drawer mounting brackets for 24", 30", and 36" depth workstations. 55 series drawer units are compatible with 36"D workstations only. Previously sold separately, upright attachment brackets are now included with the Cornerstone-WS Workstation frame. Cornerstone work stations can be equipped with casters. As with all our work station platforms Cornerstone stations are painted with our proprietary ESD Epoxy Powder Coat paint process. Standard color is light grey.
More information, including Cornerstone-WS Workstation brochures available for download, can be find online at www.sovella.us.
Sovella USA
1910-C Cobb International Blvd.
Kennesaw, GA 30152
Office: 770.424.0004 Cell: 407.467.0002
www.sovella.us
________________________________________
Sovella has an extensive history in industrial furniture design and manufacturing with over two decades of experience in ergonomic workspace development. Our design and manufacturing facilities are based in Jyväskylä in Central Finland. However, with our main market areas in Scandinavia, the Baltic countries, Central and Eastern Europe, North America, and China, we are truly an international company.