Reliable Plastic Bags from Multi-Pak USA Inc.
Plastic Bags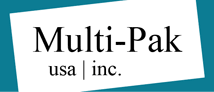 Here at Multi-Pak USA Inc., we strive to provide exceptional polyethylene bags , custom printed plastic bags , and shipping supplies at wholesale prices. Founded in 1992, we have gathered many years of experience in manufacturing poly bags and providing premium customer service. We serve businesses nationwide offering competitively priced products. In order to meet your needs, we manufacture bags suitable for promotional and industrial applications in a variety of styles and sizes as well as provide custom solutions. Creating partnerships with our customers, our suppliers, and the businesses we work with is something we value.
Just a few of the promotional plastic bags we offer include plastic bags with die cut handle, rigid handle plastic bags, drawstring plastic bags, patch handle plastic bags, and flexi-loop handle plastic bags. For industrial applications, we offer ziplock bags, flat plastic bags, wicketed poly bags, plastic bags with gussets, large plastic bags for use as bin liners and pallet covers, poly bags on a roll, and many kinds of specialty plastic bags. Our reliable quality bags are ideal for a variety of applications. Plastic bags, vinyl bags, poly tubing, and poly sheeting are available for custom printing in up to 8 colors. Wholesale poly bags, ziplock bags, poly tubing and poly sheeting are manufactured with clear or colored film.
We believe in providing value to our customers by offering top of the line products and first class customer service. Our resourceful team can help find the perfect polyethylene bag to meet all your requirements. We have domestic and overseas plastic bag and vinyl bag manufacturing capabilities. Our minimum order requirements are low to accommodate our customers. We pride ourselves on our fast turn-around times. All products guaranteed against manufacturer error & defect.