Moduclean: Specialist in Cleanroom Installation
Cleanroom Equipment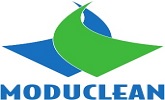 Moduclean works with international manufacturers of cleanroom equipment to complete hundreds of cleanroom projects throughout the world. Our high quality products offered have allowed us to gain support from the pharmaceutical, biotechnology, aeronautics, hospital and food industries. We work with our customers to provide the best components for their cleanrooms at a cost efficient solution. We offer our clients a large list of cleanroom equipment, making sure all offered equipment meets U.S. and European regulation and industry standards.
At Moduclean, we offer a large selection of modular wall panels, doors, ceiling panels, pass thrus, glazing, lighting, air showers and decontamination chambers. Our modular panels are offered in both single and dual-flush mountings and come with a multitude of customizable technical features. The materials, coating and forms used differentiate depending on the requirements of the projects. Moduclean offers a variety of cleanroom door options ranging from swinging, sliding, roll-up, dual-flush or airtight. We also have available security, access control and automatic door options. We offer ceilings made from the same panel or a pharmgrade panel with lighting fixtures and HEPA filters completely integrated in the ceiling panels. We also supply our ceilings with stainless steel fittings to hang to your building. If you work in an environment where transfers are being made, pass thrus that meet standards are a necessity. Our cleanroom pass thrus offered show incomparable performance in terms of sealing and life. We also offer the option of custom manufacturing for pass thrus to meet our customer's specific needs.
No matter your cleanroom demands, Moduclean can provide you with multiple top quality options for meeting your needs. We offer expert advice concerning your specific cleanroom applications, if you have any questions please stop by our website or give us a call today!