MBK Tape Solutions Sticks to Integrity and Quality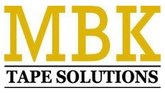 As a global leader in the tape converting industry and in business for over 45 years, MBK Tape Solutions has manufactured adhesive tape and similar products, and developed tailor-made solutions for clients across a multitude of industries. We are capable of converting jumbo rolls of tape and other types of flexible materials into specifically sized rolls or die cut shapes. We have converted tape to satisfy requirements such as heavy-duty-bonding, EMI/RFI shielding, medical skin attachment, thermal control, cooling LED lights, solar panel sealing, and insulation for lithium batteries.
So why choose MBK Tape? We have the machinery and the know-how to convert tapes and make sure you receive what you are looking for. Our team aims to be your partners and provide specialized attention, not treat you like a number. Integrity is also important to us. We pursue all of our business dealings with honesty, and aim to go above and beyond to ensure the needs of our clients are addressed. We also love challenges. We have become a leader in the field of tape conversion by constantly seeking improvement and ways to stay on the cutting edge of our industry. Finally, we are a ISO 9001:2015 certified and FDA-registered company. We adhere to a strict set of standards and make sure your tape product fulfills the criteria before it leaves our facility. And when it does leave the facility, you can count on us to deliver it on time.Our broad inventory of tape products include adhesive transfer tape, single and double-sided tape, rubber tape, paper tape, hook and loop fasteners, films and film tape, medical grade silicone PSA tape, release liners, decorative tape, masking tape, packing tape, and much more. A complete list of our capabilities and products can be found on our website. Visit our website or call today, and a MBK representative will help you find the tape product you need.