Larson Tool & Stamping's Dedicated Staff Delivers Outstanding Quality.
Metal Stampings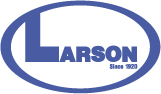 Founded in 1920, Larson Tool & Stamping Company is a family-owned and operated metal stamping company. One thing that sets us apart from other companies is our capacity to meet delivery schedules with superior quality products at competitive prices. Because we employ a stable, flexible, and loyal workforce, we are able to expand our resources to meet extreme challenges. The combination of dedicated workers, the latest technology, and control of all in-house processes make it possible. Our capabilities are vast, we provide services such as forming, stamping, deep drawing, assembly, and many more.
For more than 90 years, Larson Tool and Stamping has supplied metal stampings and assemblies all over the United States. We fabricate premium metal stampings in varying thickness of ferrous and non-ferrous metals of all types, using our power presses with capacity from 75 to 450 tons, plus our drawing and secondary press capacity to 800 tons. Our value-added operations include spray painting, welding, assembly, furnace brazing, cleaning, and mass finishing. Everything is custom made to suit your needs. We serve all major markets including automotive, appliance, and fire extinguisher cylinders.Larson maintains a full-service tool design, building, and maintenance facility capable of producing a wide range of metal stamping and deep draw tooling, as well as complete manual and automated manufacturing systems. We are ISO/TS 16949 and ISO 9001:2008 certified. We also hold multiple safety certifications. Our committed extends to environmental responsibility. We operate an environmentally sound facility with a focus on the use of recyclable materials and the efficient use of resources.