Keyword Research: Moderation in All Things

by Michael Shade, IQS Editor
71% of American adults are online. Of that portion of Americans, 78% have used the Internet to search for information about products or services, and 87% use search engines to find information. These are the results of the Pew Research Center's Internet and American Life Project surveys in 2010. Over the course of the last 15 years, Internet use by adults in the United States skyrocketed. Also, according to the Organization for Economic Cooperation and Development, by 2007 95% of medium and large businesses in OECD countries were using the Internet. Researching Internet use trends does not always produce clear and unambiguous results, but one simple fact stands out in the midst of all of the statistics: in developed economies, almost everyone is online.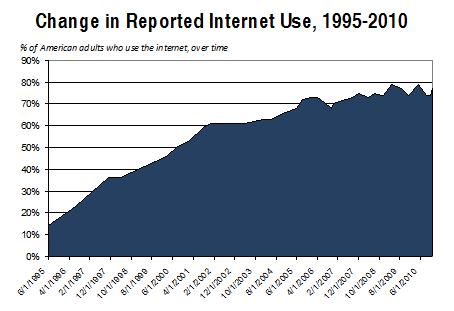 Data from the Pew Internet & American Life Project.
So everyone is online. What are they doing there? In answering that question, it can be helpful to know what "there" is. In many ways, "there" is not unlike "here." People go there to communicate with their friends and family, to be entertained, to buy things that they need and for many other reasons. In those ways, the Internet is similar to the real-life experience of going to places and doing things. The main difference is that online, each of those experiences is mediated, and that media is the Internet. Almost everyone's experience of the Internet is further mediated by search engines, which almost everyone must use in order to navigate the vastness of the Internet. This reality has broad implications for website design; if a website's only connection to its audience is through search engines, and if that website is competing with hundreds of other websites for placement in a search engine, that website must be designed in a way that will make its favorable placement in a search engine more likely.
By an overwhelming margin, Google dominates the search engine market; most people go there to look for what they want. In simple terms, Google scans as many of the web pages online as possible and creates an index of them. Depending on what Google's combination of algorithms perceives to be relevant website content, it ranks the web pages and makes them available to users who search for the content that appears in those sites. One of the main ways that Google decides how to return search results to its users is based on websites' keyword content. If, for example, a user searches for metal tubes, the site that Google has decided is most relevant to that search will appear at the top of the first page of the list of results, and that site will usually involve the words "metal tubes" in its title or description.
A top tier Google search result is much more likely to be clicked by a user than is a lower tier result. When a web site developer creates a web page for a company, he or she should obviously choose descriptive words that are relevant to the products or services of the company. The history of search engines' development is closely paired with the history of manipulative web design strategies. In recent years, Google and other search engines have penalized web sites that, in an attempt to improve rankings, have been flooded with keywords. Whether or not Google's new ranking systems bring their users the most relevant content is a matter of debate, but Google has made it clear that it will assign bad rankings to sites that it regards as manipulative. Despite this, keyword content and density still play a large role in a site's search engine ranking.
If asked, a Google representative might say that good keyword quantity and quality are a natural expression of good content. In other words, if a site is good, it will have good keywords that people are searching for. The problem with this reasoning is that most small companies that hope to develop web presence can't compete with larger companies' web content. In many cases, large companies' Internet marketing efforts are bolstered by marketing firms that are dedicated solely to helping improve search engine rankings for their clients. Here is where keyword research finally comes in.
Google offers its keyword research tool to everyone, free of charge. It looks like this:

Google's keyword research tool can be found here.
Everyone who entered these keywords into Google's Adwords keyword research tool would see these results. The numbers represent Google's estimated query figures for the month. Local searches occur within the United States, and Global searches are worldwide estimates. It's clear from this example that the mere omission of the letter "s" can dramatically affect keyword performance. A company that sells metal tubes might sell great products from a great website, but failing to be aware of one keyword's popularity compared to another could seriously cost a company in terms of its search engine rankings. Until Google's algorithm changes again, or until another search engine can compete with Google's market share, using Google's keyword research tool helps to level the playing field, at least to some extent.
Keyword selection should supplement thoughtful web design, not supplant it. Google and its competitors continue to emphasize this with every update to their algorithms. At least as far as Google runs the search engine game, the role of keywords in web design will continue to be a combination of intuition and careful research. The takeaway of the ongoing keyword conversation continues to be this: focus on good, user-friendly design, update frequently and promote with social media. Keyword research, selection and placement should be just a small part of this large process.